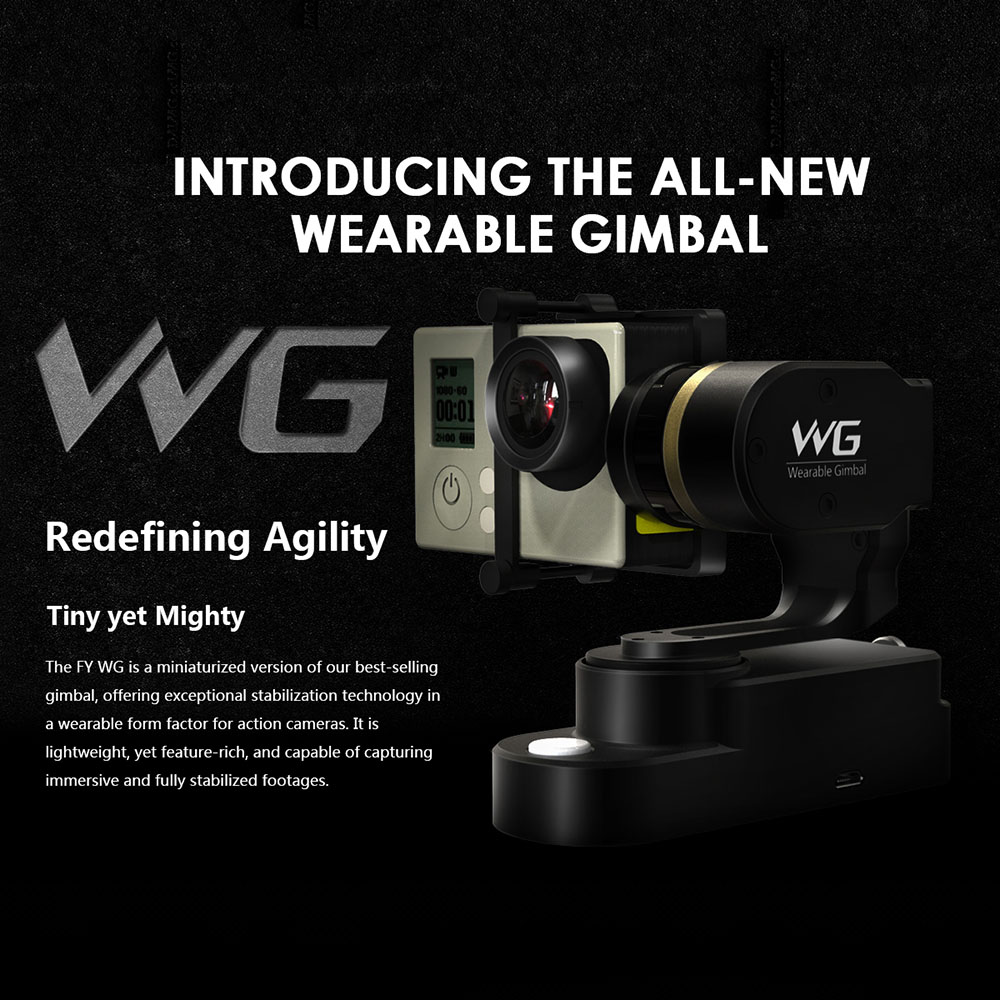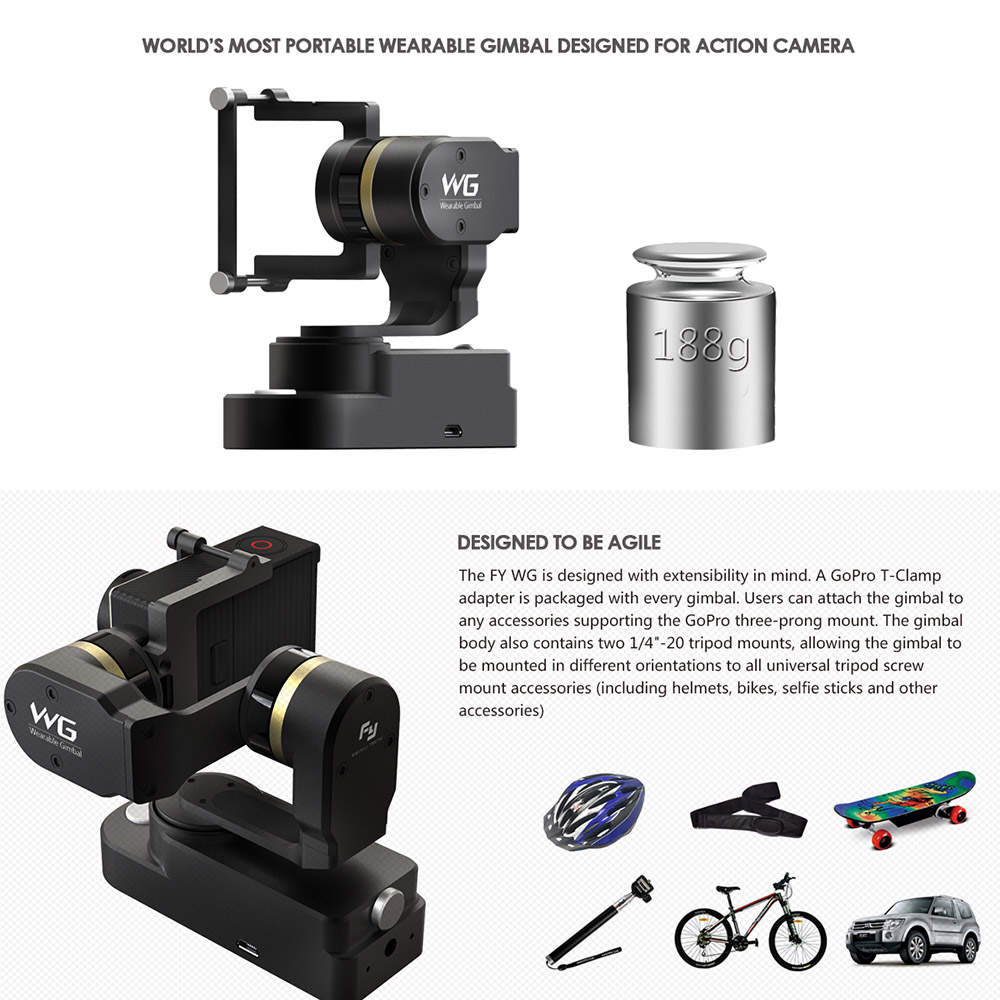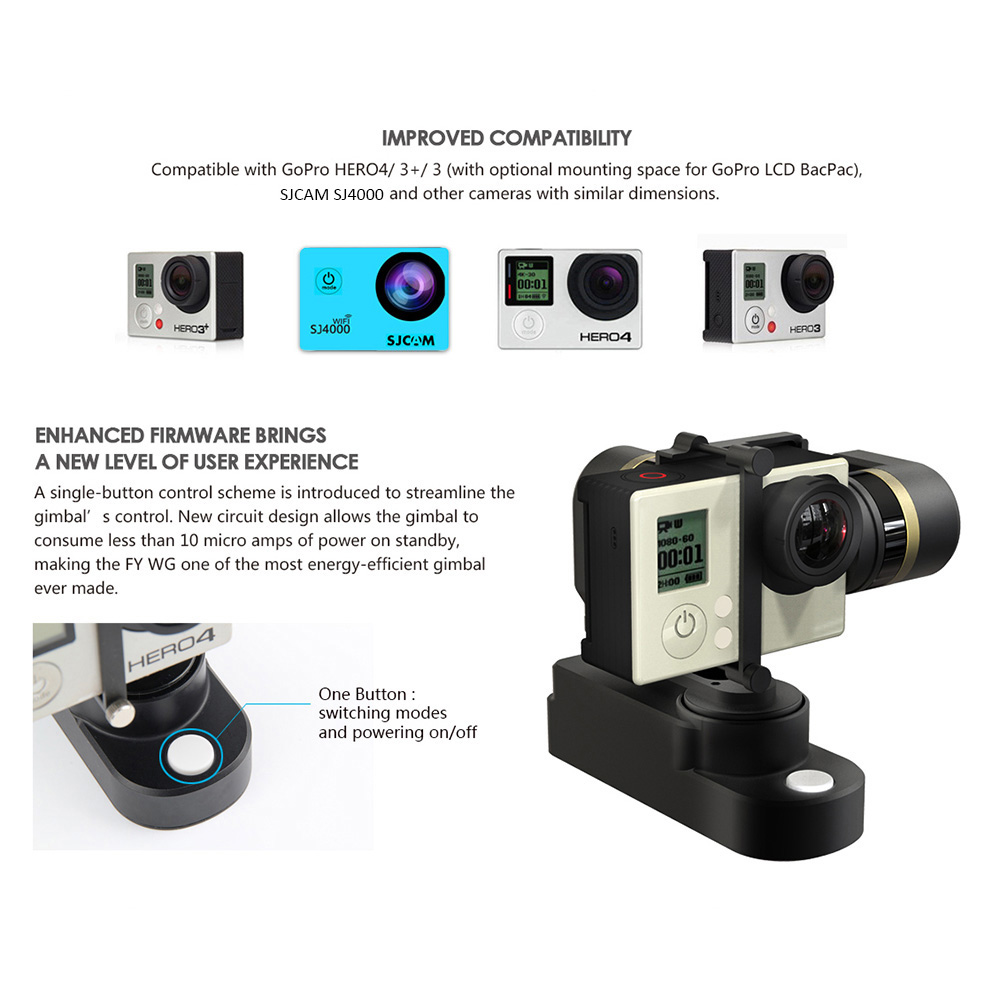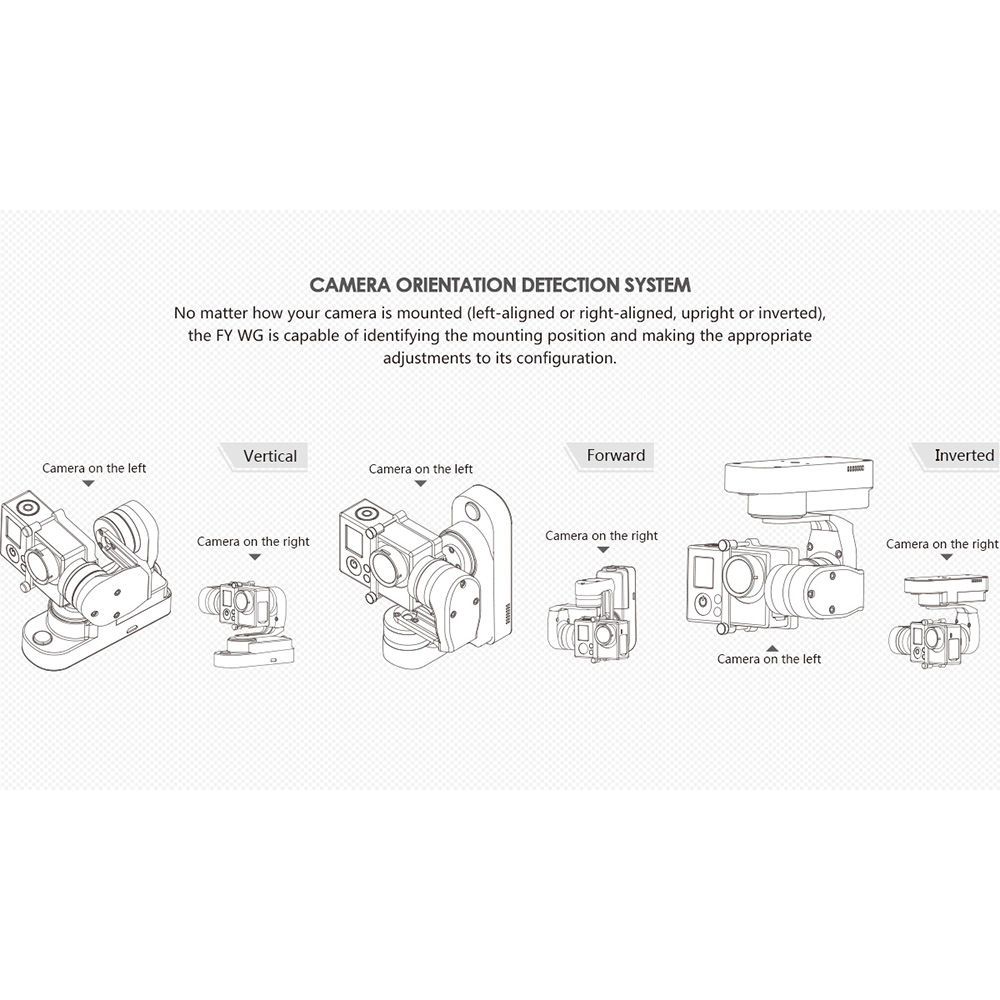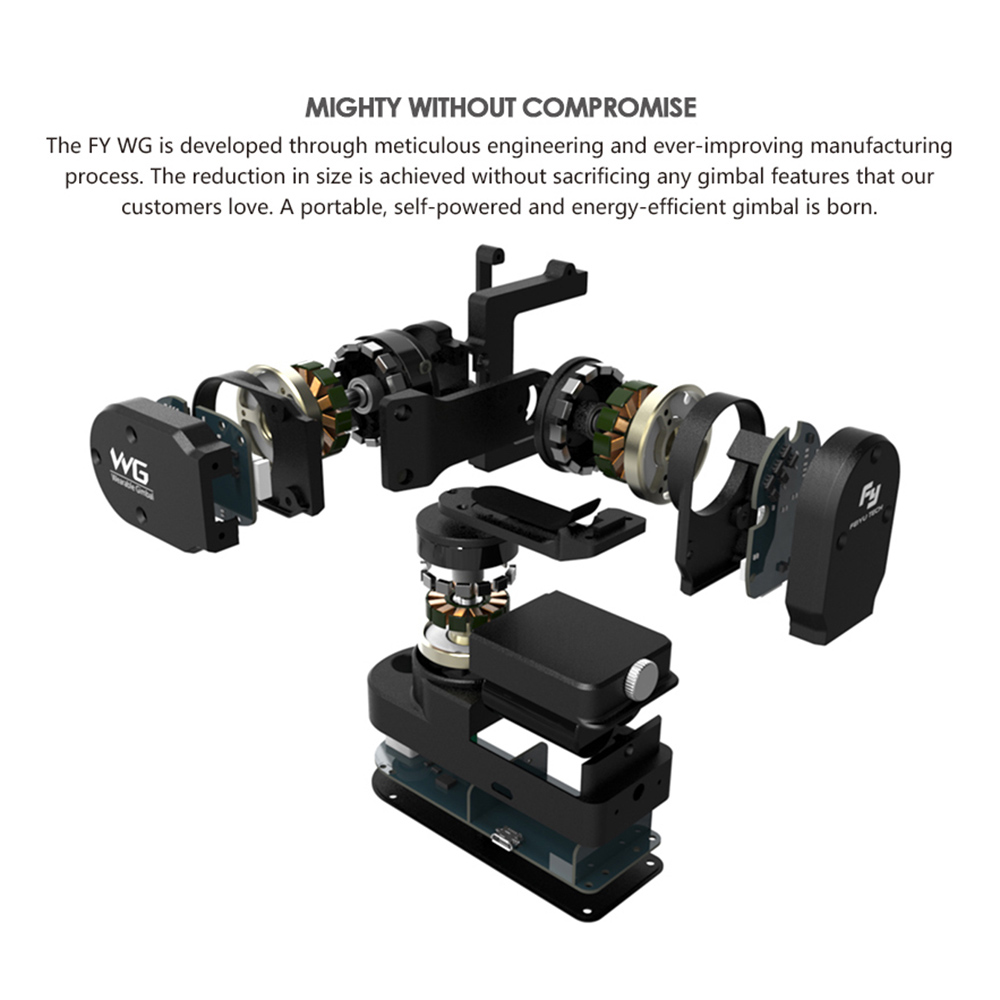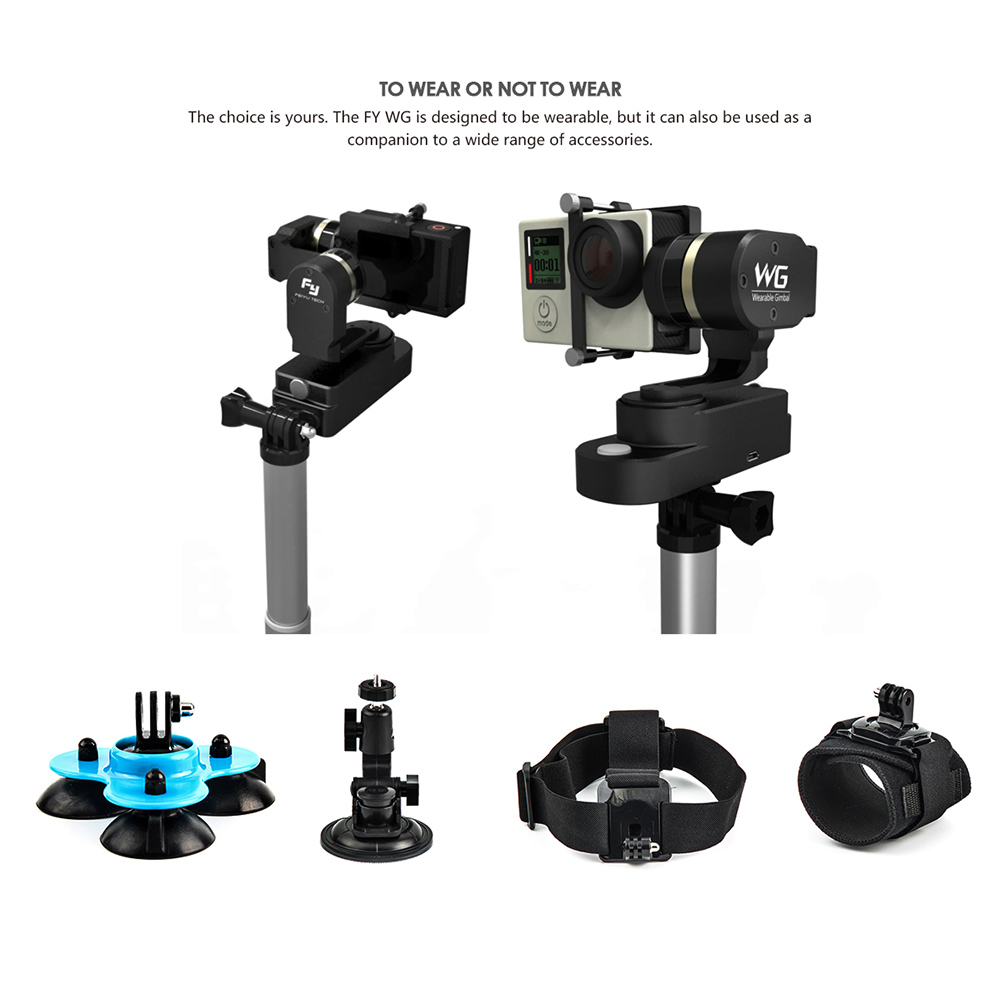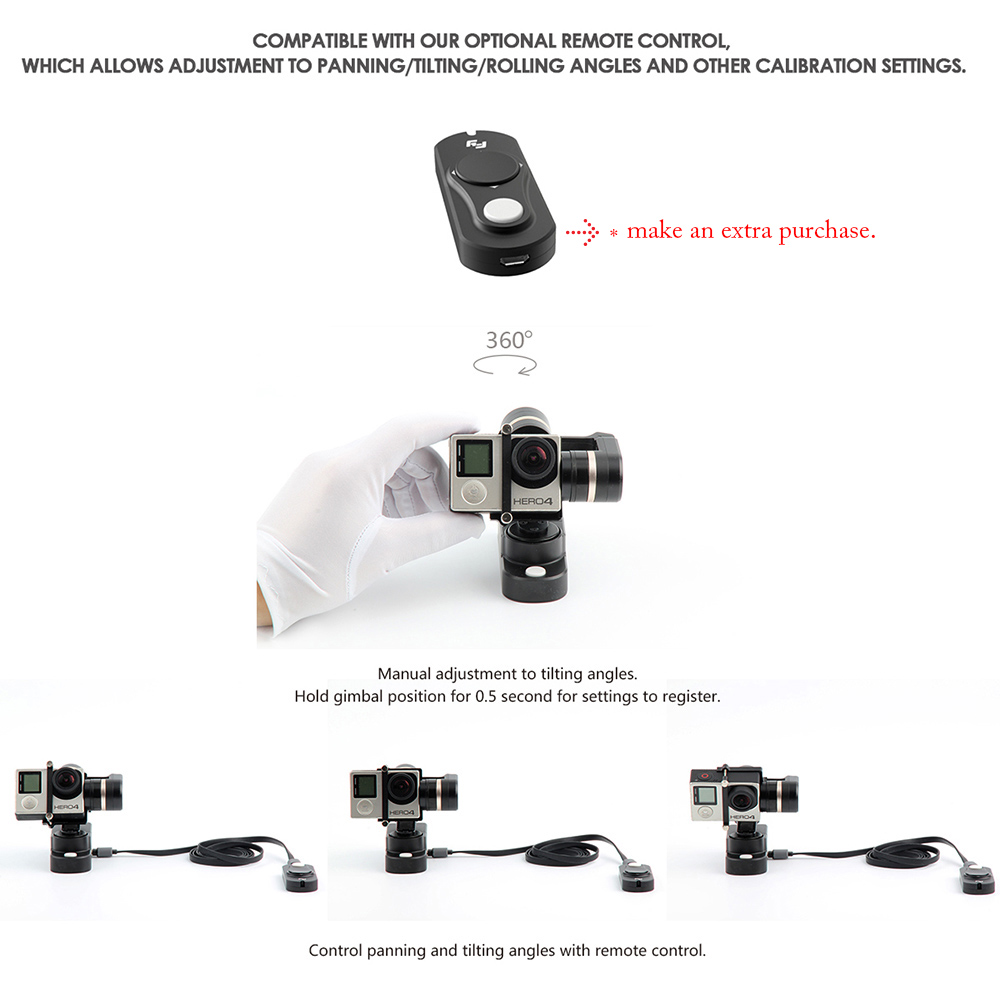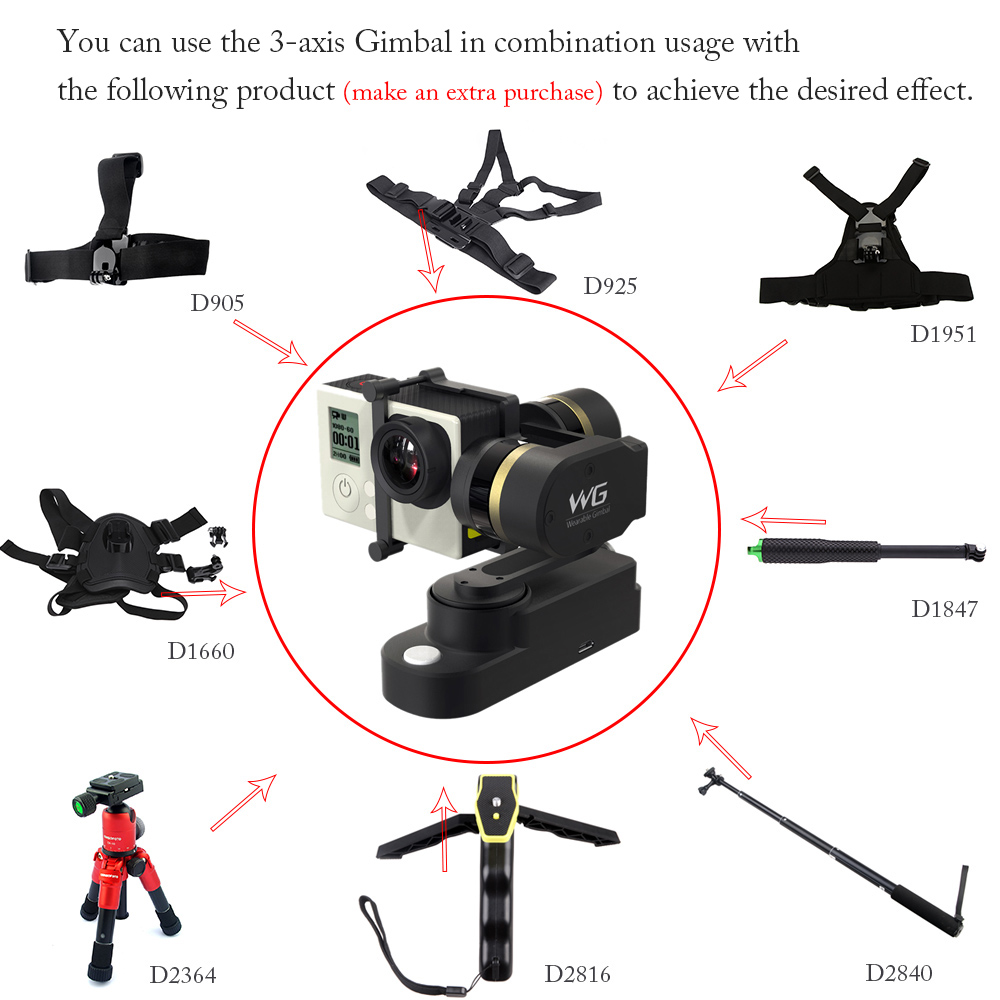 Feiyu WG is a lightweight, yet feature-rich, wearable 3 axis gimbal capturing immersive and fully stabilized footages. It is compatible with GoPro Hero4/3+/3 (with optional mounting space for GoPro LCD Bacpac),  compatible with SJCAM SJ4000 and other cameras with similar dimensions, such as for SJCAM SJ4000, for Xiaomi Yi, for AEE
(for Xiaomi Yi and AEE, you need to buy our replaceable mounting splint
)
.
The FY WG is a miniaturized version of the best-selling Feiyu gimbal, offering exceptional stabilization technology in a wearable form factor for action cameras. A GoPro T-Clamp adapter is packaged with every FY WG. Users can attach the gimbal to any accessories supporting the GoPro three-prong mount. The FY WG also contains two 1/4"-20 tripod mounts on its gimbal body, allowing the gimbal to be mounted in different orientations to all universal tripod screw mount accessories (including helmets, bikes, selfie sticks and other accessories). In addition, the Gimbal can be directly use on helmets, cars and so on, just by using the included accessory-3M Adhesive to fix the bottom of it.
Features:
The world's most portable handheld gimbal designed for action camera.
IMPROVED COMPATIBILITY:
Compatible with GoPro and similarly shaped Action Cameras such as for Xiaomi Yi, for AEE, for SJCAM SJ4000 and many more.
ENHANCEED FIRMWARE BRINGS A NEW LEVEL OF USER EXPERIENCE
: A single-button control scheme is introduced for switching modes and powering on/off. New circuit design allows the gimbal to consume less than 10 micro amps of power on standby, making the FY WG one of the most energy-efficient gimbal ever made.
CAMERA ORIENTATION DETECTION SYSTEM
: No matter how your camera is mounted (left-gligned or right-aligned, upright or inverted), the FY WG is capable of identifying the mounting position and make the appropriate adjustments to its configuration.
MIGHTY WITHOUT COMPROMISE
: The FY WG is developed through meticulous engineering and ever-improving manufacturing process. The reduction in size is achieved without sacrificing any gimbal features that our customers love, self-powered and energy-efficient gimbal is born.
TO WEAR OR NOT TO WEAR
: The choice is yours. The FY WG is designed to be wearable, but it can also bu used as a companion to a wide range of accessories.
Compatible with our optional remote control
(make an extra purchase)
, which allows adjustment to panning/tilting/rolling angles and other calibration settings.
Manual adjustment to tilting angles. Hold gimbal position for 0.5 second for locking the current angle.   
Specifications:
Brand: FY Feiyu Tech
Product Model: FY WG
Working Voltage: 6V~9V
Vertical Tilting Angle: 320°
Rolls Angle: 100°
Horizontal Panning Angle: 320°
Tilting Increments: 2°/s ~ 75°/s
Panning Increments: 3°/s ~ 150°/s
Static Attitude Tracking Accuracy: 0.01~0.05 (Working Voltage)
Motion Attitude Tracking Accuracy: 0.1~0.5 (Motor Overload<2G)
Overload Current Protection: 800mA
Powered By: 2 * 16340 battery
Usage Time: 3~4 Hours
Camera Maximum Height: 43.6mm (Replaceable mounting bracket)
Camera Maximum Thickness: 31.7mm (Replaceable mounting bracket)
Camera Maximum Weight: 150g
Item Weight: 188g / 6.6oz (Without Batteries & Camera)
Package Size: 23 * 17.8 * 7.3cm / 9.1 * 7 * 2.9in (L * W * H)
Package Weight: 676g / 23.8oz
Package List:
1 * WG Gimbal
1 * Camera Fixing Accessory
1 * Charger (Input: DC 5V, Min 800mA; Output: DC 4.2V)
4 * Rechargeable Battery (Type: 16340)
1 * Video Output And Camera Charging Cable
6 * Hexagonal Socket Head Cap Screw
1 * M 1.5 Allen Key
2 * T-Clamp
1 * Long Screw
2 * Extension Knurled Thumb Screw
1 * USB Connector
1 * USB Cable
1 * Curved Adhesive Mounts
1 * Quick Release Buckle
1 * 3M Adhensive
1 * User Manual
Note:
Please make sure gimbal completed initialization successfully before attempting calibration.
Be sure to remove the batteries before upgrading.
Please make sure that the connection to the computer is done by the USB connector.
The remote control need to make an extra purchase; the camera is not included.
For the installation and the operation, please read the user manual carefully.