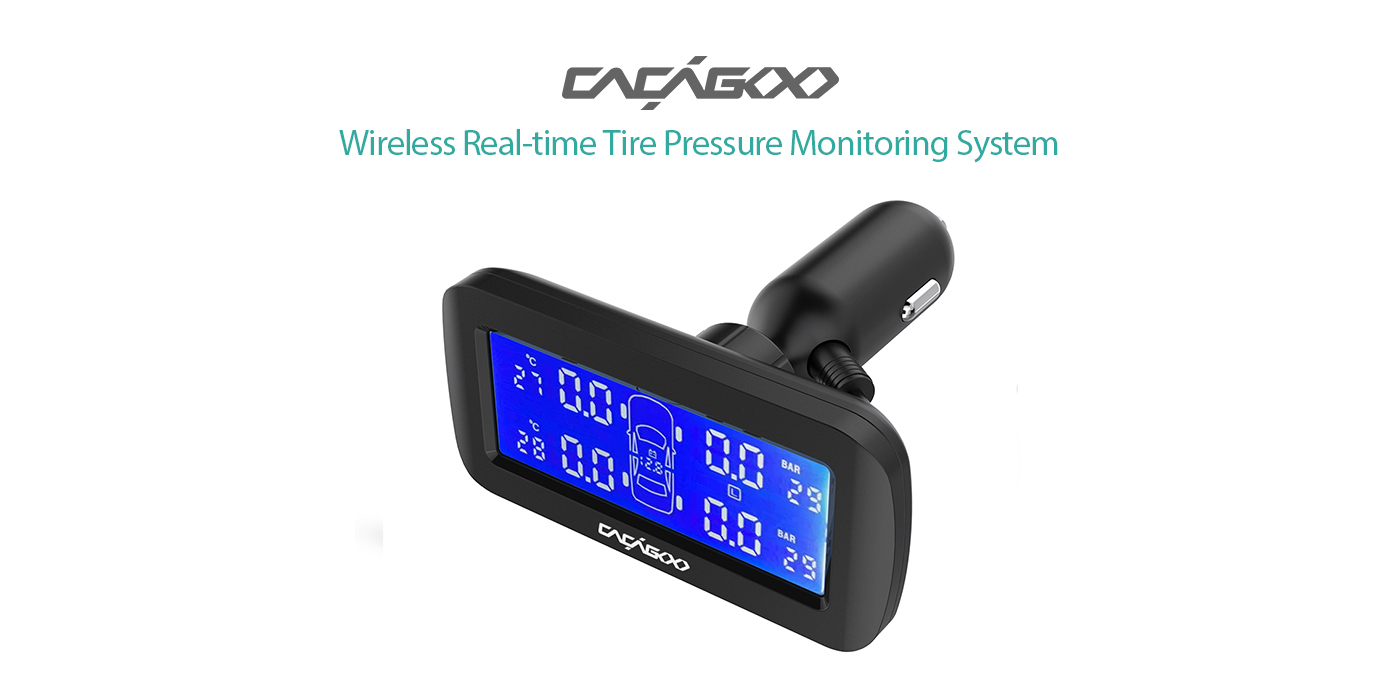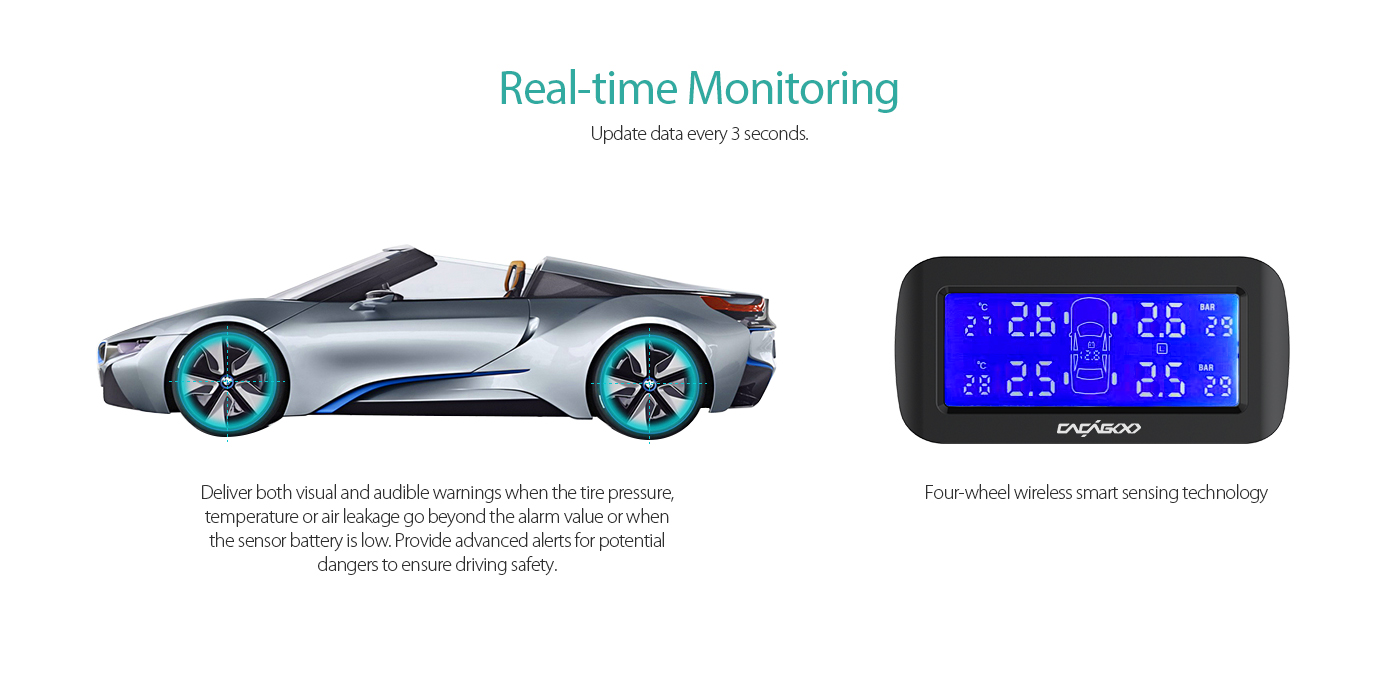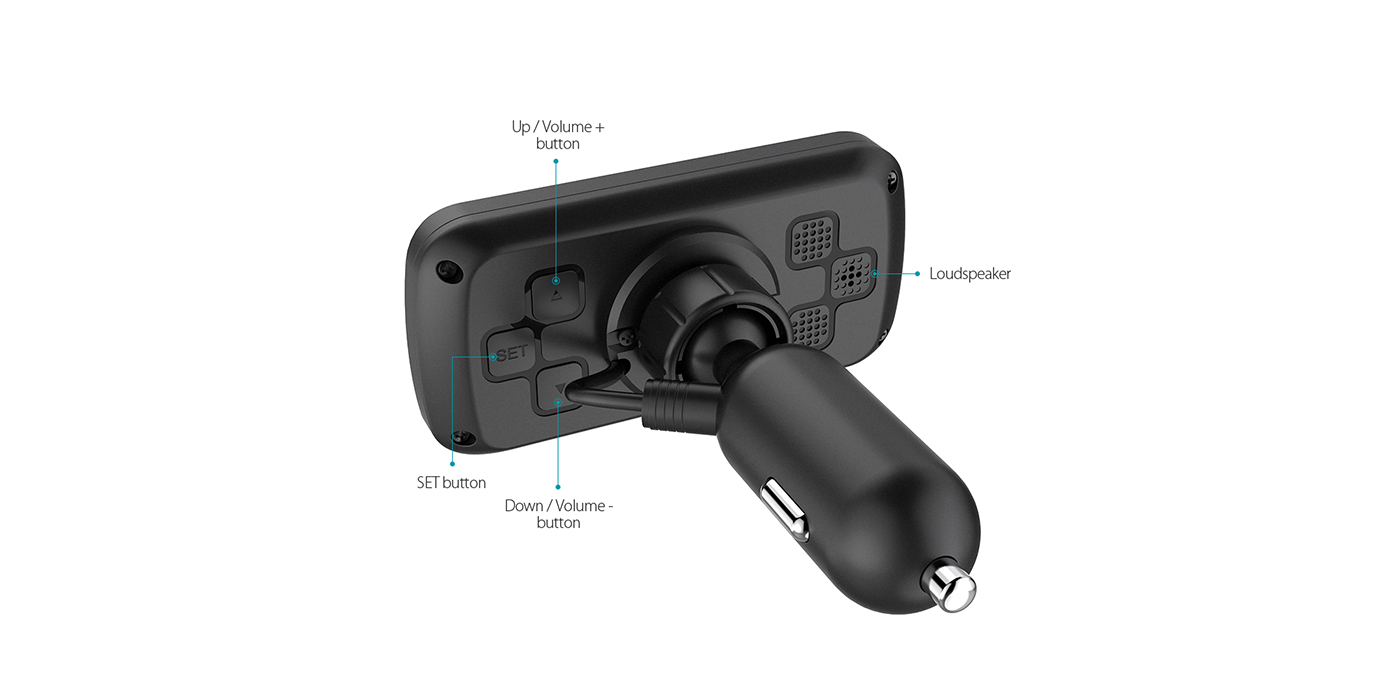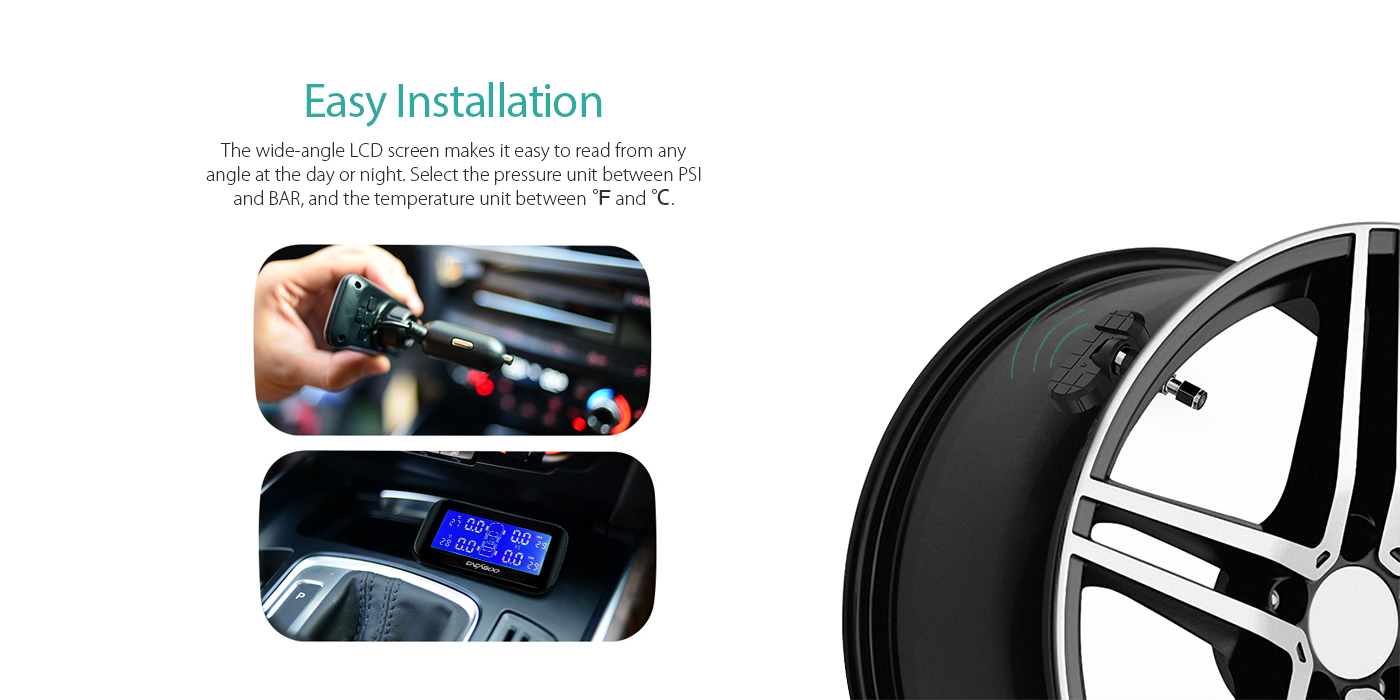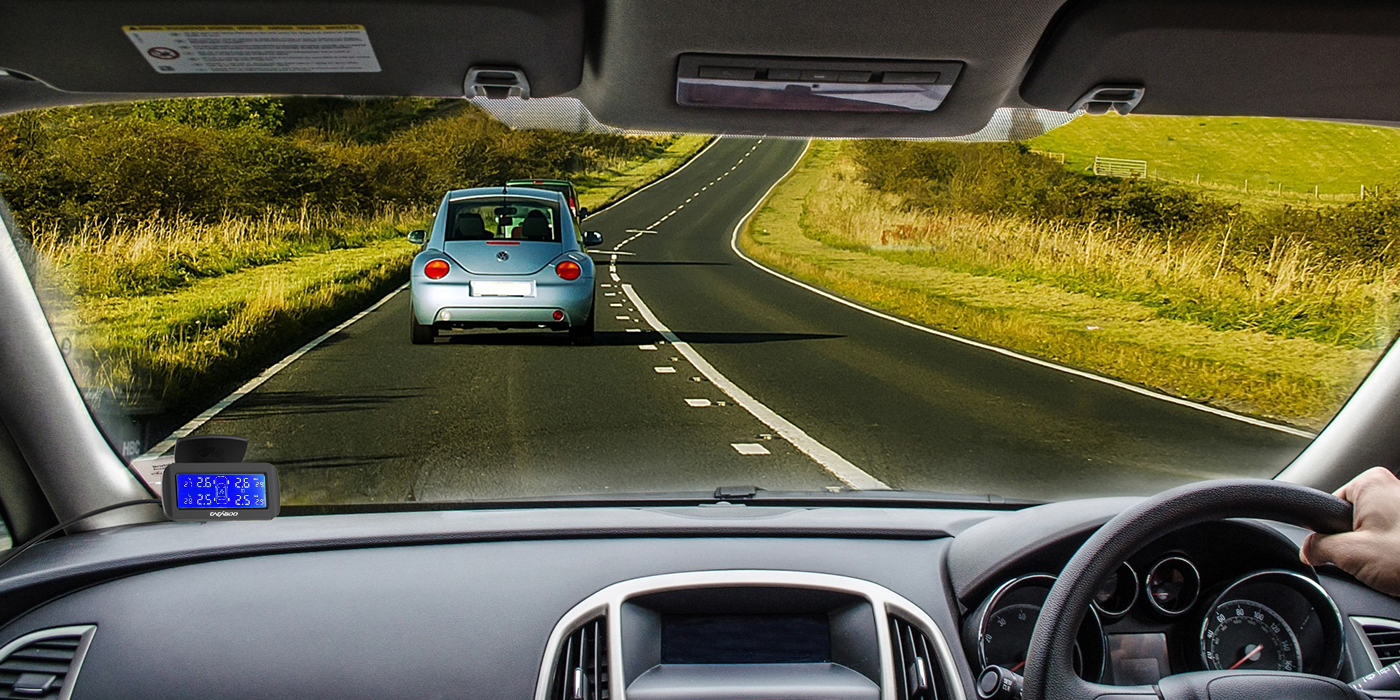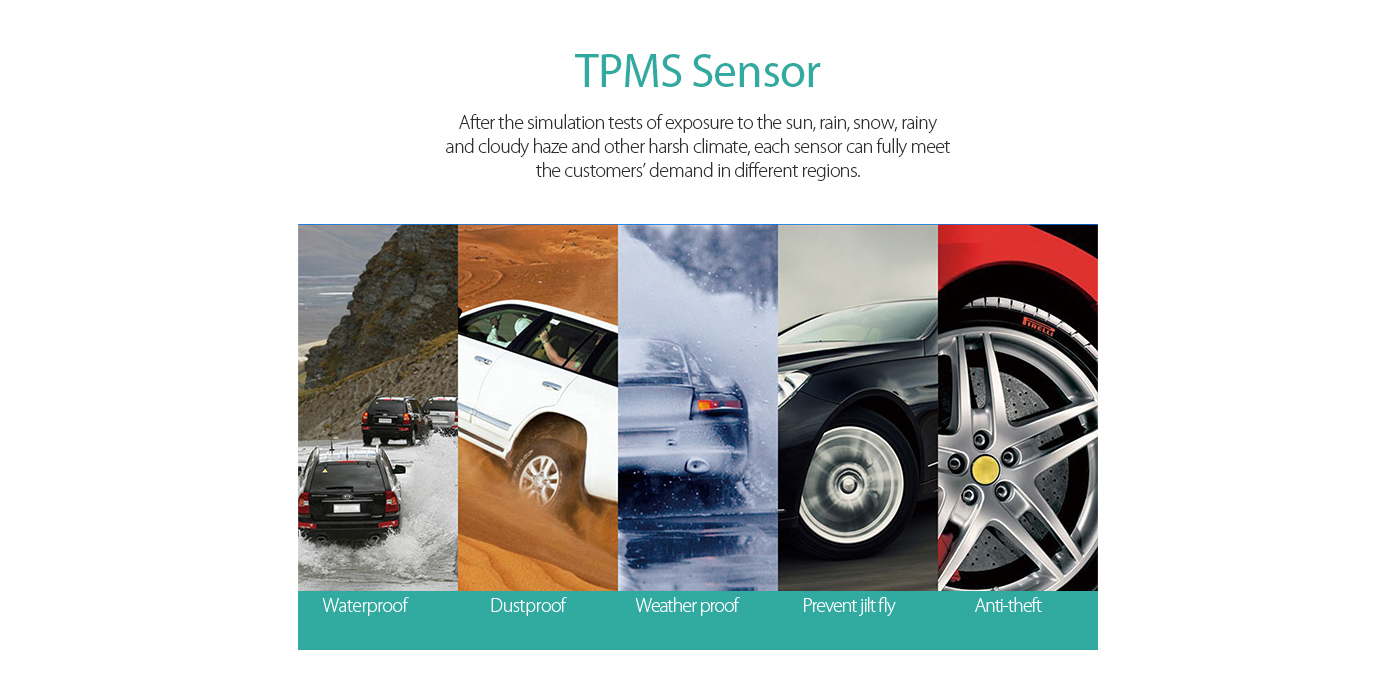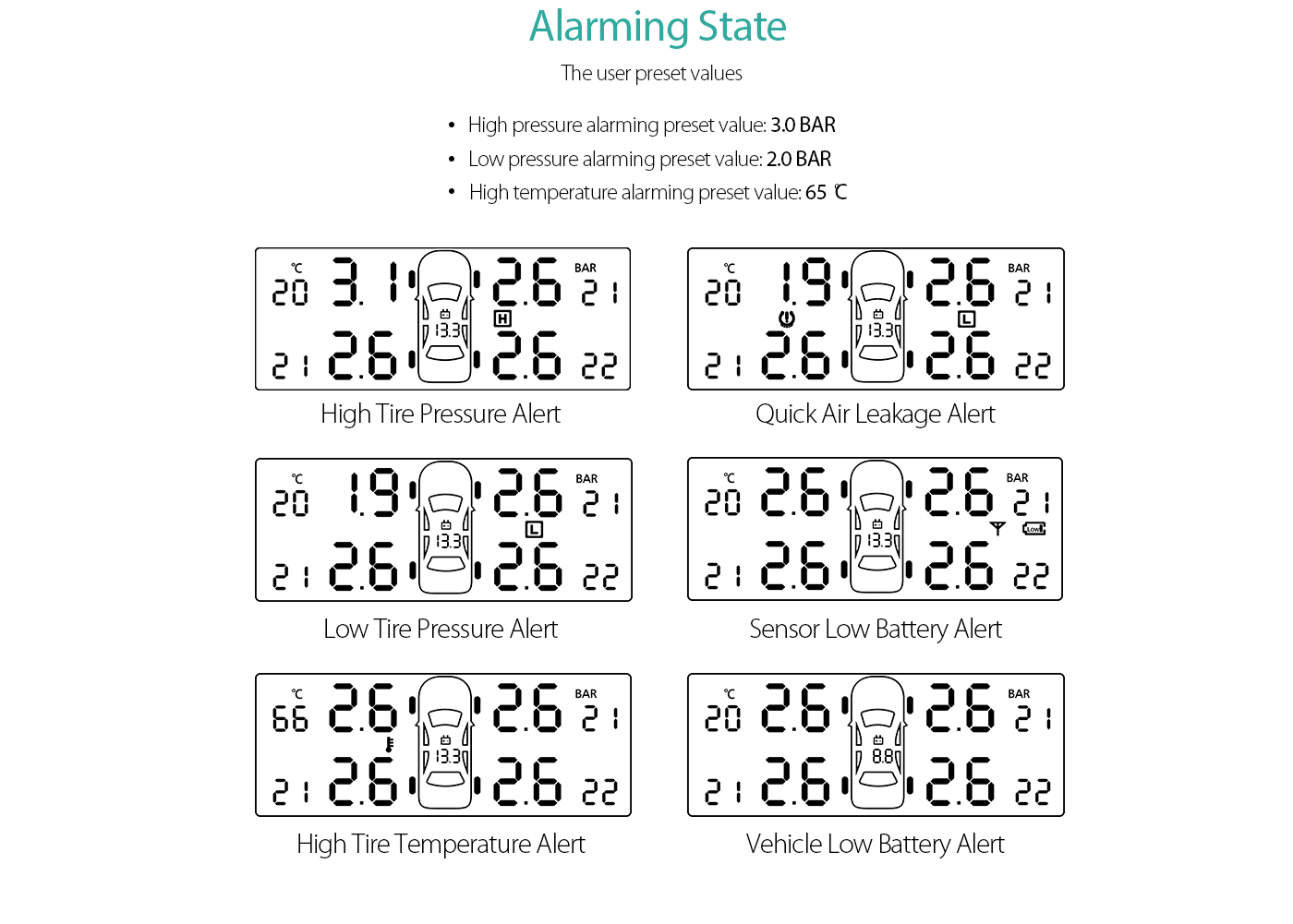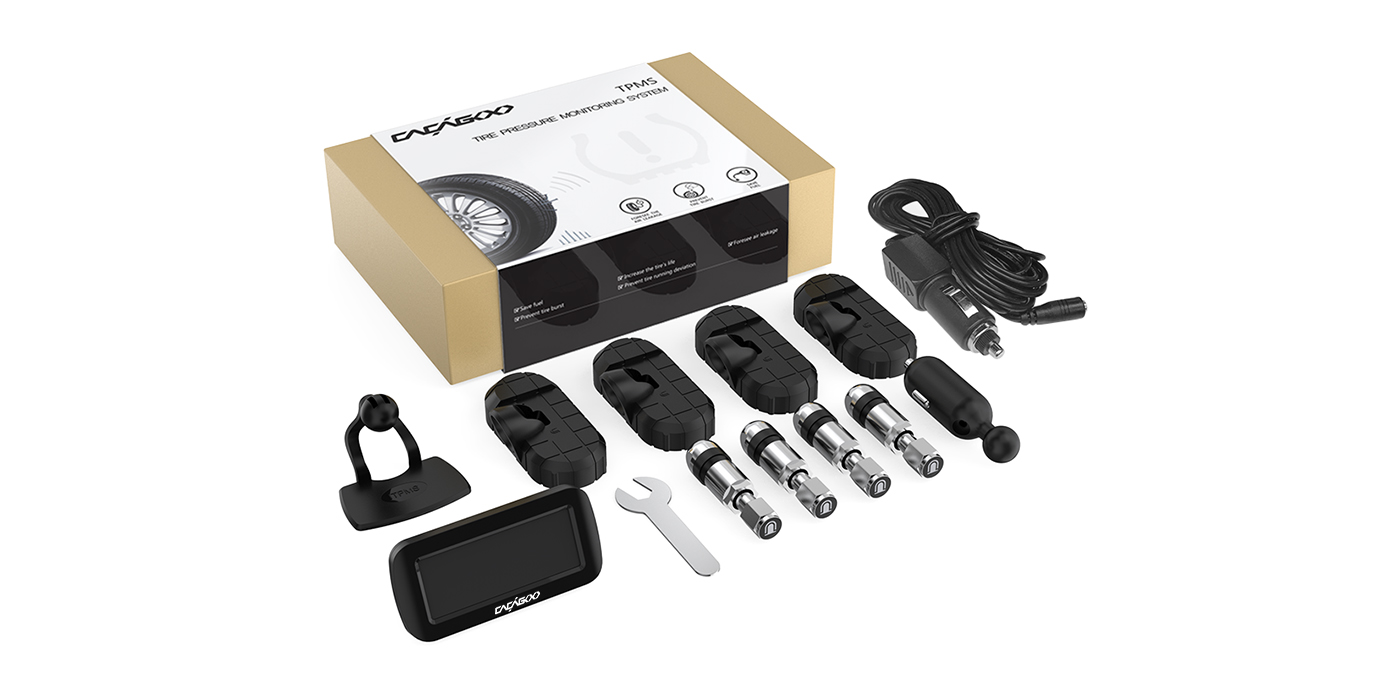 Overview
CACAGOO Tire Pressure Monitoring System monitors tire pressure and temperature. It helps you know the situation of four tires and prompts you to take in-time actions to prevent puncture and damage of car parts caused by flat tires. It also helps prevent flat tires, forecast leakage, reduce tire wire, prolong tire life, improve fuel efficiency and increase traffic safety.
Features
4 Tires Monitoring
Display the real-time and individual pressure and temperature data of four tires simultaneously via an intuitive graphical interface. Warn you of abnormal tire situations and help prevent flat tires, forecast air leakage, reduce tire wear, extend tire life and reduce fuel consumption.
Superior Performance
The monitor adopts the Freescale chip to ensure highly accurate monitoring data and super stable data transmission. The CR2450 batteries in internal sensors can be replaced.
Real-time Abnormal Alarm
The monitor delivers both visual and audible warnings when the tire pressure, temperature or air leakage go beyond the alarm value or when the sensor battery is low. Provide advanced alerts for potential dangers to ensure driving safety.
Wireless Transmission
No wire connection required. The sensors will transmit data automatically when the vehicle is in motion. A cigarette lighter or power line is needed to power the monitor.
User-Friendly
The wide-angle LCD screen makes it easy to read from any angle at the day or night. Select the pressure unit between PSI and BAR, and the temperature unit between ℉ and ℃. The pressure alarm value and the temperature alarm value can be customized.
Independent Sensor ID & IP67 Rating
Each sensor has a unique ID code, which helps you identify which tire has a problem and allows tire exchanging without removing the sensors. IP67 dust-proof and waterproof make the sensors more reliable and durable than others.
Note:
Either four external sensors or four internal sensors can be selected. External sensors are easy to install and replace while internal sensors provide more accurate monitoring data. The accessories may vary from the type of sensors you are choosing.
Specifications
Brand: CACAGOO
Material: ABS
Color: Black
Sensor: 4 * internal sensors
Monitor:
Display screen: LCD
Operating temperature: -20℃ ~ 80℃
Storage temperature: -30℃ ~ 85℃
Input voltage: DC 8-16 V
Transmission frequency: 433.92 MHz
Sensor:
Operating temperature: -40℃ ~ 105℃
Storage temperature: -40℃ ~ 120℃
Pressure range: 0 ~ 116 psi (0 ~ 8 bar)
Pressure accuracy: ± 1.5 psi (± 0.1 bar)
Transmission frequency: 433.92 MHz
Internal sensor battery life: > 5 years
Internal sensor size: Approx. 0.74 * 2.73 * 1.26 in / 18.78 * 69.31 * 32.18 mm (L * W * H)
Internal sensor weight: Approx. 1.16 oz / 33 g
Cable length: Approx. 78.34 in / 3.98 m
Certificate: CE, RoHS, FCC
Monitor size: Approx. 3.15 * 1.49 * 0.45 in / 80 * 38 * 11.5 mm (L * W * H)
Monitor weight: Approx. 1.16 oz / 33 g
Package size: Approx. 7.48 * 5.12 * 2.36 in / 190 * 130 * 60 mm (L * W * H)
Package weight: Approx. 18.34 oz / 520 g
Package includes
1 * CACAGOO Tire Pressure Monitoring System
4 * Internal sensor
4 * Tire valve
1 * Holder
1 * Cigarette lighter
1 * Spanner
1 * Charger & Power line
1 * Instruction Manual (English, French, German, Spanish, Italian, Japanese)