The DJI Mavic Pro is a small yet powerful drone that turns the sky into your creative canvass easily and without worry, helping you make every moment an aerial moment. Its compact size hides a high degree of complexity that makes it one of DJI's most sophisticated flying camera ever. 24 high-performance computing cores, an all-new transmission system with a 4.3mi (7Km) range, 4vision sensors, and a 4K camera stabilized by a 3-aix mechanical gimbal, are at your command with just a push of your thumb or a tap of your finger. This version also include DJI Goggles glasses.
The DJI Goggles are comfortable goggles designed for seamless FPV flying with DJI products. They combine a pair of large ultra-high quality screens, long-range, low lag wireless connectivity, and direct control of photo and video capture. With Intelligent Flight Modes like ActiveTrack, TapFly, Terrain Follow, Cinematic Mode and Tripod mode, a totally new flying dimension is created.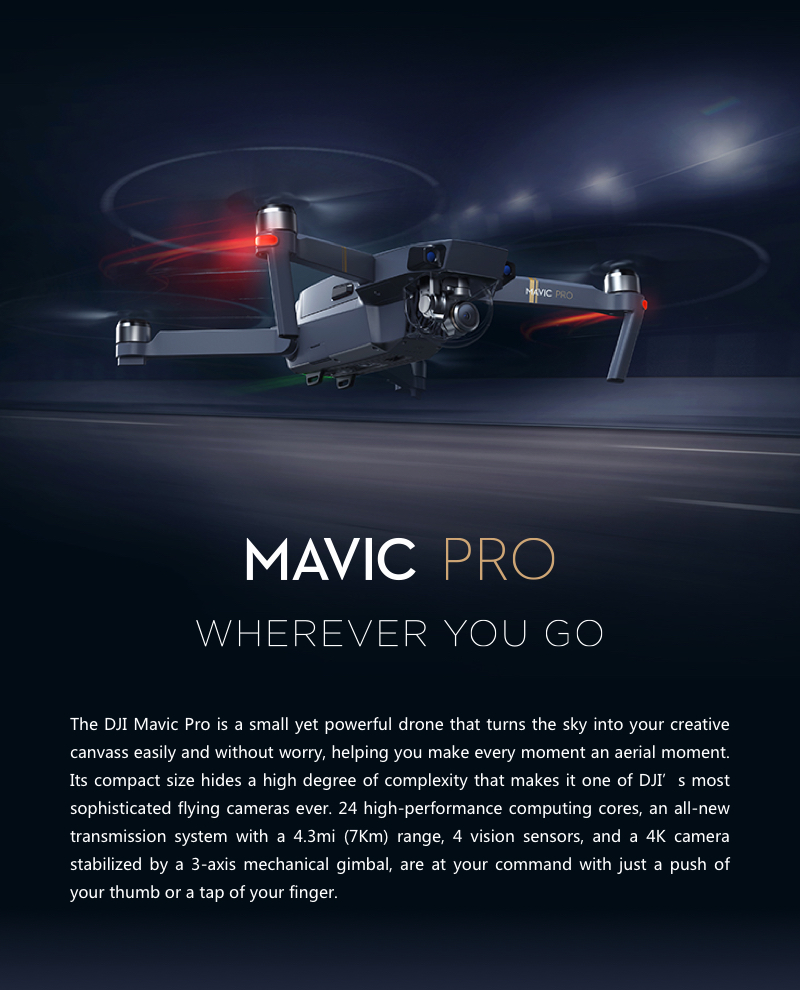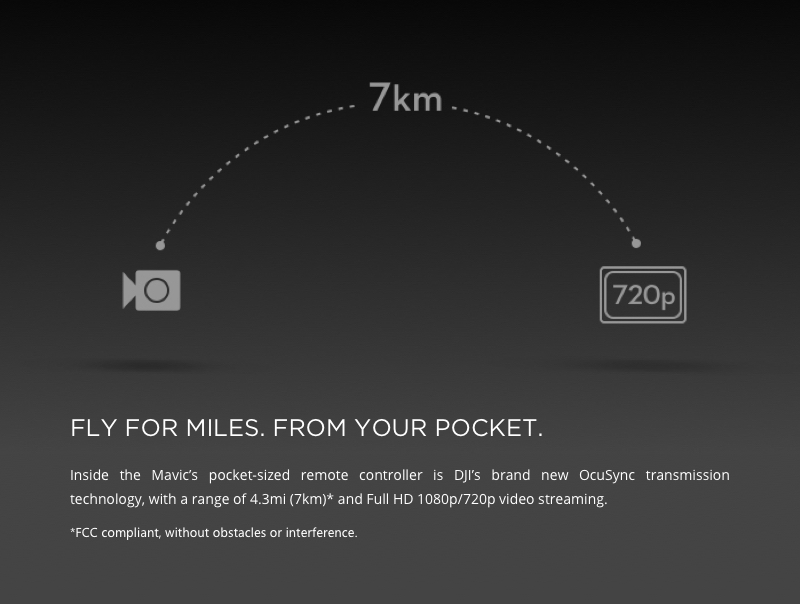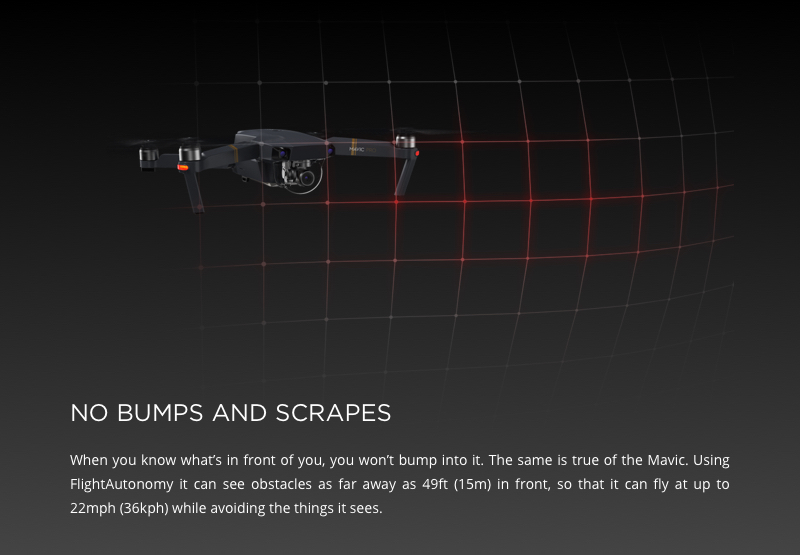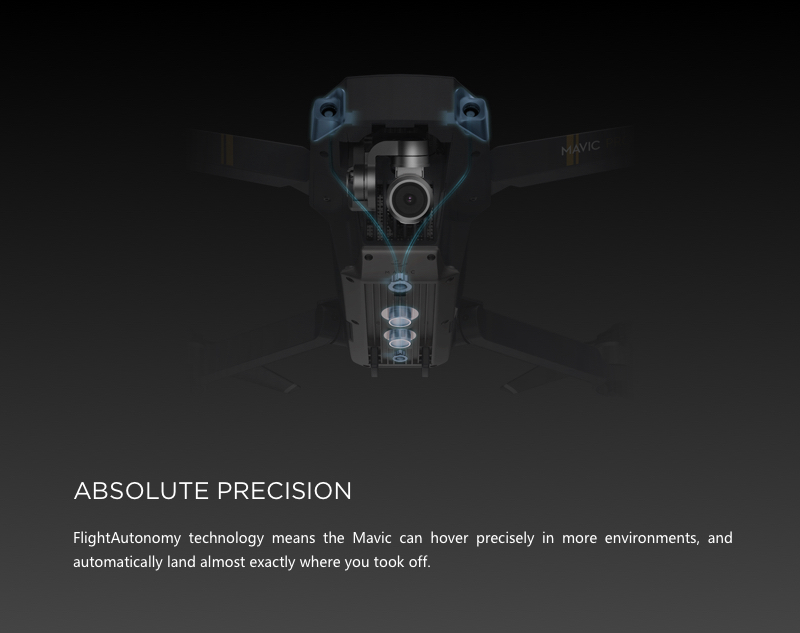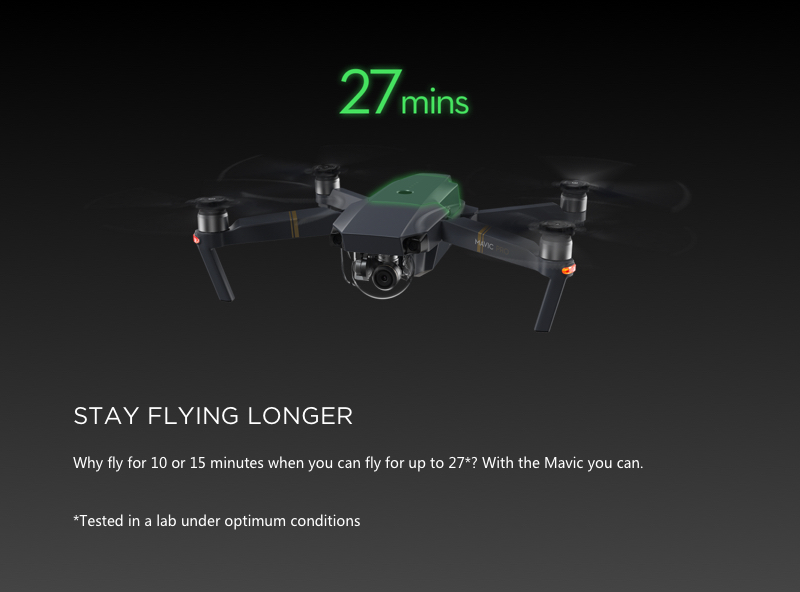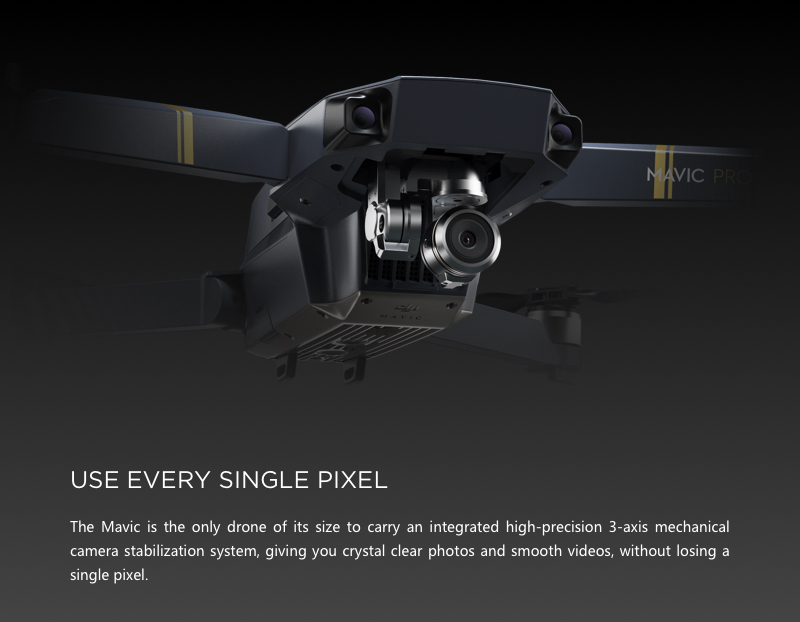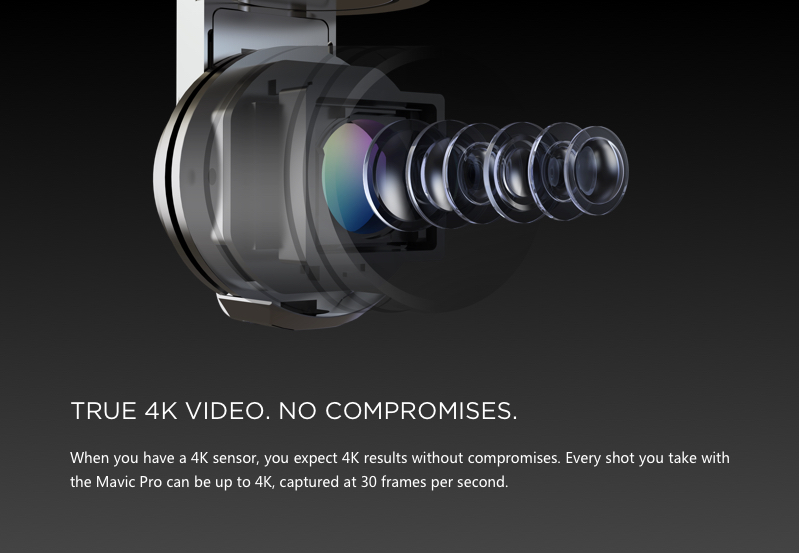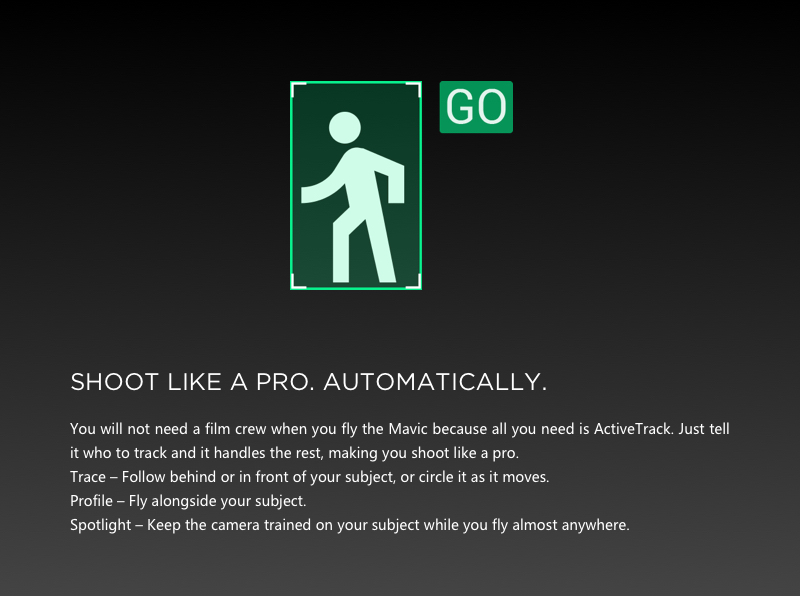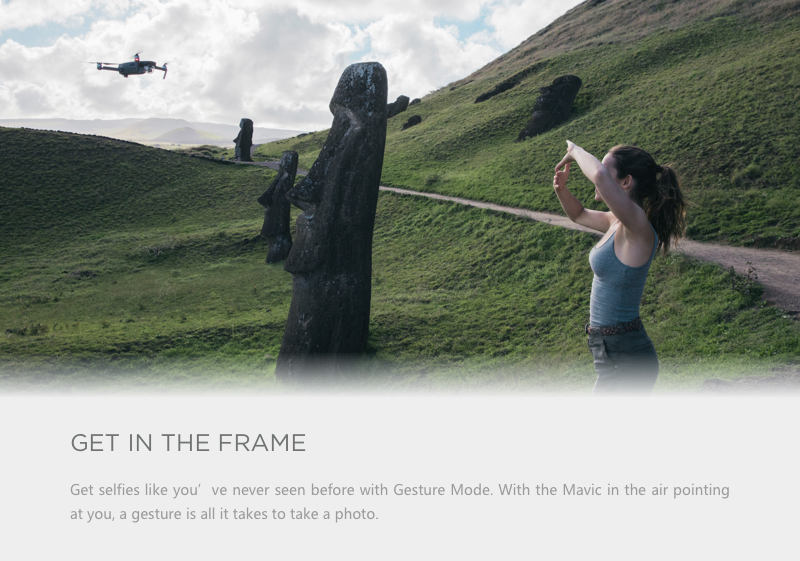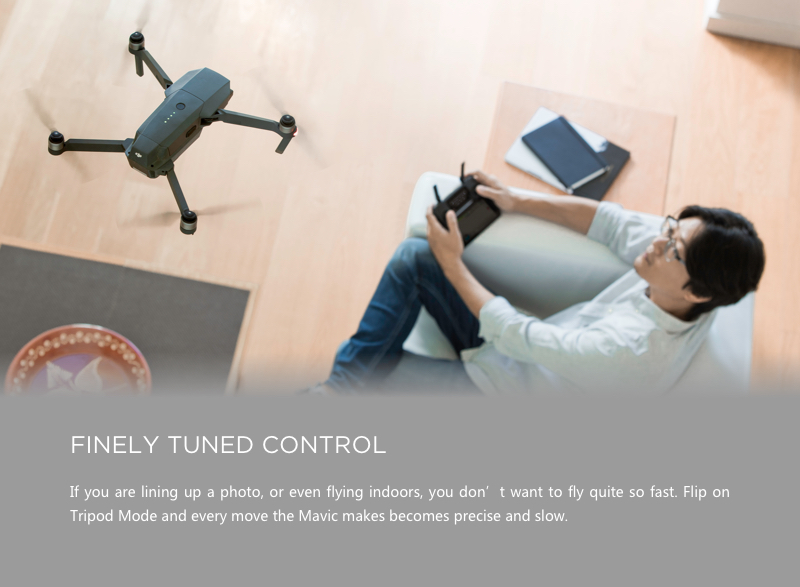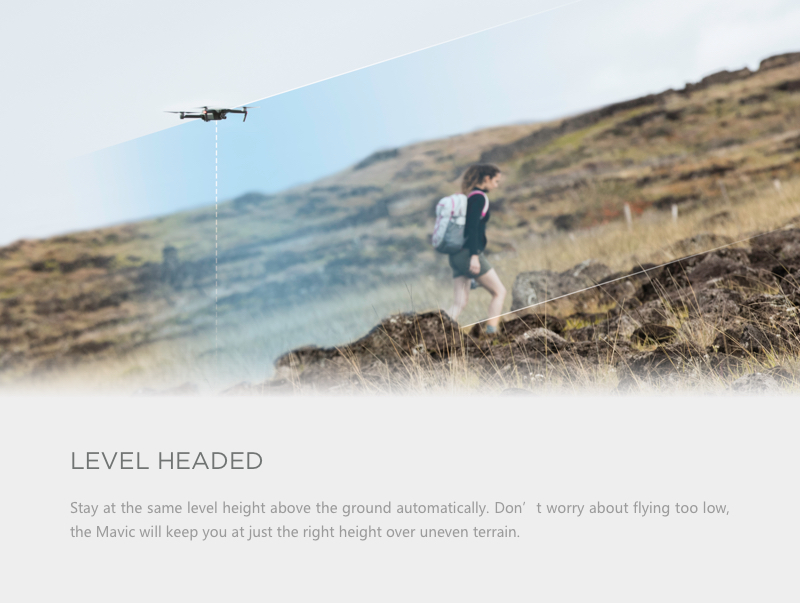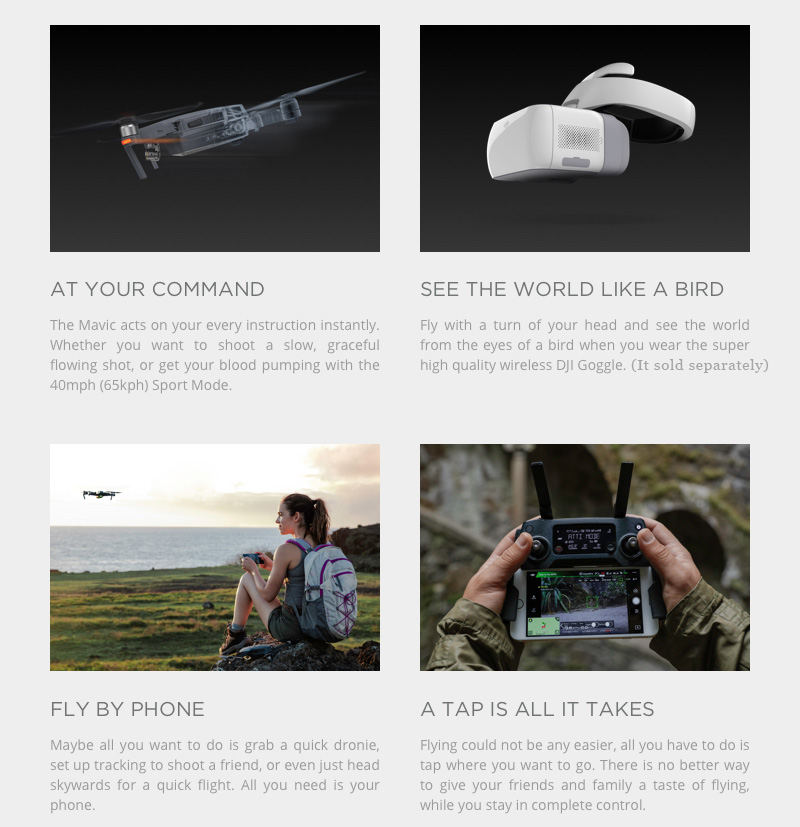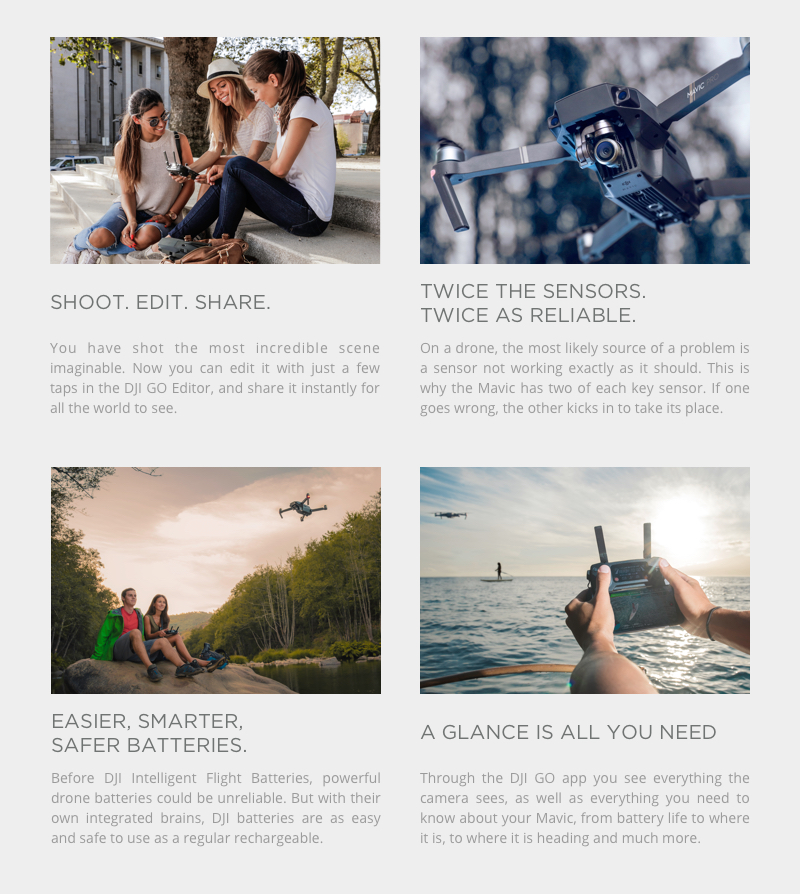 Features:
The DJI Mavic Pro folds down as small as a bottle of water, making it small enough to bring with you everywhere
New OcuSync transmission system offers up to 4.3 miles (7km) of transmission range
FlightAutonomy technology means the Mavic can hover precisely in more enviroments, and automatically land almost exactly where you took off
Fly at up to 40mph (64kmh) or for as long as 27mins
True 4K, fully stabilized ensures smooth footage
ActiveTrack, TapFly and other smart features make professional looking video effortless
Obstacle Avoidance combined with sensor redundancy increases flight safety and reliability
Vision positioning paired with GPS and GLONASS ensures precise positioning indoor and outdoors
Fly by phone over Wi-Fi for even easier flight
High-precision 3-axis mechanical camera stabilization system
Get selfies like you've never seen defore with gesture mode
Two 1920 * 1080 screens providing more than twice the amount of pixels of a typical 2K single screen.
Able to offer both 720p/60fps and close range 1080p/30fps viewing with an extremely low latency of just 110ms.
Through DJI's OcuSync wireless transmission system, up to four devices can be connected to the Mavic Pro simultaneously.
Antennas built into the headband ensure 360° of coverage, offering a reliable connection even if the aircraft is flying behind you.
Head tracking function tilt your head and the gimbal will tilt along to get real view of the sky.
Access to key intelligent features through a touchpad integrated into the DJI Goggles or 5D button on the Mavic Pro controller makes navigating the internal menu system easy and intuitive.
Intelligent flight / fixed wing mode to control the drone with DJI Goggles with AR trajectory prediction provides real exciting fly experience.
A unique solid headband design balances and spreads the weight and comfortable to wear even for hours.
Micro USB input, Micro SD Card input, HDMI input and audio output.
Specifications:
Quadcopter:
Brand: DJI
Model: Mavic Pro
Folded Size: 198 * 83 * 83mm
Weight (including battery and propellers):
1.62lb (734g) (exclude gimbal cover)
1.64lb (743g) (include gimbal cover)
Diagonal Size: 335mm
Max Ascent Speed: 6.4ft/s (5m/s) in sport mode
Max Descent Speed: 9.8ft/s (3m/s)
Max Speed: 40mph (65kph) in sport mode without wind
Max Service Ceiling Above Sea Level: 16404feet (5000m)
Max Flight Time: 27mins (0 wind at a consistent 15.5mph (25kph))
Max Hovering Time: 24mins (0 wind)
Overall Flight Time: 21mins (in normal flight, 15% remaining battery level)
Max Flight Distance: 8mi (13km, 0 wind)
Operating Temperature: 32° to 104° F (0° to 40° C)
GPS Mode: GPS/GLONASS
Remote Controller:
Operating Frequency: 2.4GHz to 2.483GHz
Max Transmission Distance:
FCC compliant 4.3mi/7km
CE compliant 2.5mi/4km (Unobstructed, free of interference)
Operating Temperature: 32° to 104° F/0° to 40° C
Battery: 2970mAh
Transmitter Power(EIRP):
FCC:≤26 dBm
CE:≤20 dBm
Operating Voltage: 950mA @ 3.7V
Supported Mobile Device Size: Thickness supported 6.5-8.5mm, max length 160mm
Supported USB Port Types: Lightning, Micro USB(Type-B), USB(Type-C)™
Camera:
Sensor: 1/2.3'' CMOS
Effective Pixels: 12.35M (total pixels:12.71M)
Lens:
FOV: 78.8° 28 mm (35 mm format equivalent) f/2.2
Distortion: <1.5% focus from 0.5 m to ∞
ISO Range: 100-3200 (video), 100-1600 (photo)
Shutter Speed: 8s -1/8000s
Image Max Size: 4000 * 3000
Still Photography Modes:
Single shot
Burst shooting: 3/5/7 frames
Auto Exposure Bracketing (AEB): 3/5 bracketed frames at 0.7
EV Bias
Interval
Video Recording Modes:
C4K: 4096 * 2160 24p
4K: 3840 * 2160 24/25/30p
2.7K: 2704 * 1520 24/25/30p
FHD: 1920 * 1080 24/25/30/48/50/60/96p
HD: 1280 * 720 24/25/30/48/50/60/120p
Max Video Bitrate: 60Mbps
Supported File Formats: FAT32 (≤ 32 GB); exFAT (> 32GB )
Photo: JPEG, DNG
Video: MP4, MOV (MPEG-4 AVC/H.264)
Supported SD Card Types:
Micro SD™
Max capacity: 64 GB. Class 10 or UHS-1 rating required
Operating Temperature: 32° to 104° F ( 0° to 40° C )
Gimbal:
Controllable Range:
Pitch: -90° to +30°
Roll: 0° or 90° (horizontally and vertically)
Stabilization: 3-axis (pitch, roll, yaw)
Flight Battery:
Capacity: 3830mAh
Voltage: 11.4V
Battery Type: 3S LiPo battery
Energy: 43.6Wh
Net Weight: 240g
Operating Temperature: 41° to 104° F ( 5° to 40° C )
Charger:
Voltage: 13.05 V
Rated Power: 50 W
Plug: US , UK and EU optional
Forward Vision System:
Obstacle Sensory Range:
Precision Measurement Range: 2 ft (0.7 m) to 49 ft (15 m)
Detectable Range: 49 ft (15 m) to 98 ft (30 m)
Operating Environment: Surface with clear pattern and adequate lighting (lux > 15)
Downward Vision System:
Velocity Range: ≤22.4mph (36kph) at 6.6ft (2m) above ground
Altitude Range: 1 - 43feet (0.3 - 13m)
Operating Range: 1 - 43feet (0.3 - 13m)
Operating Environment: Surface with clear pattern and adequate lighting (lux > 15)
Goggles Glasses:
Weight:
Goggles: 495g
Headband: 500g
Dimensions:
Goggles: 195 * 155 * 110mm
Headband(Folded): 255 * 205 * 92mm
FOV: 85° (single screen)
Screen Size: 5 inch * 2
Interpupillary Distance Range: 58-70mm
Refresh rate: 60 Hz
Screen Resolution: 3840 * 1080 (single screen: 1920 * 1080)
Operating Frequency: 2.4GHz
Max.Transmission Distance: Same as the aircraft connected
Video Downlink Resolution: 1080p 30, 720p 60, 720p 30
Video Downlink Latency at least:
(Near field and free of interference)
110 ms (Mavic Pro, 720p60, video format: 720p120)
150 ms (Phantom 4 series, 720p60, video format: 720p60/720p120)
140 ms (Inspire 2+X5S, 720p60, video format: 1080p120)
190 ms (Inspire 2+X4S, 720p60, video format: 1080p60)
Battery Capacity: 9440 mAh
Battery Energy: 35.44 Wh
Max Operating Time: 6 hrs
Operating Temperature Range: 32°F (0°C) - 104°F (40°C)
I/O Interface: Micro USB, 3.5mm audio jack, HDMI type-D, Micro SD card slot
HDMI Supported: HDMI 1.4b, HDCP 1.4
Sensors: Gyroscope, Accelerometer, Proximity sensor
Charger:
Input: 100-240VAC, 50/60 Hz. 0.5A
Output: 5V,3A ; 9V,2A;12V,1.5A
NOTE: The manual is Chinese, if you want English manual, please download on DJI official website or contact us.
Package List:
1 * DJI Mavic Pro RC Quadcopter
1 * DJI Goggles Kit
1 * Remote Controller
1 * 11.4V 3830mAh Intelligent Flight Battery
1 * Gimbal Cover
3 * Pair of Propeller
1 * Gimbal Clamp
1 * Charger
1 * Power Cable
1 * 16GB Micro SD Card
1 * Micro USB Cable
3 * RC Cable (lightning connector)
4 * RC Cable Slider
1 * Manual