The DJI Inspire 1 Pro is the smallest, easiest professional aerial filmmaking platforms in the world. They combine DJI's unparalleled leadership in aerial technology with world-class M4/3 imaging capabilities. Whether you are a professional photographer or a Hollywood filmmaker, the Inspire 1 Pro is ready to take your work to new heights.
The Zenmuse X5 is among the smallest Micro 4/3 cameras ever made and the only M4/3 cameras designed specifically for aerial imaging. Both can capture ultra-clear 4K video at up to 30 frames per second and capture photos at 16 megapixels in Adobe DNG RAW. As M4/3 cameras, you have a choice of lenses and also full wireless control over focus, aperture and more.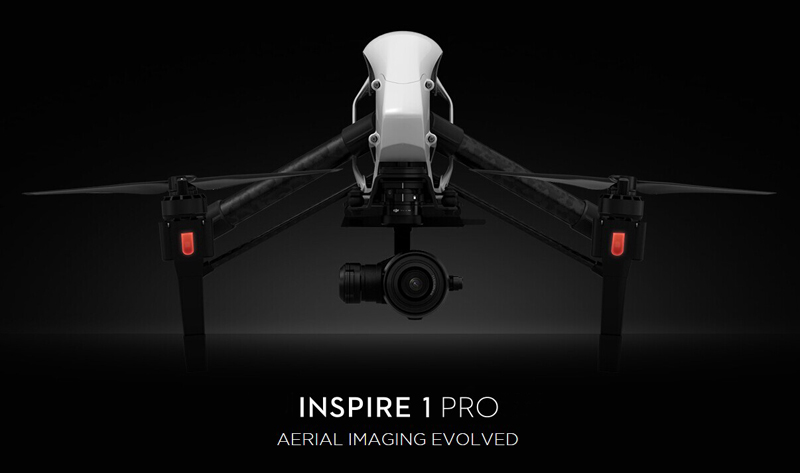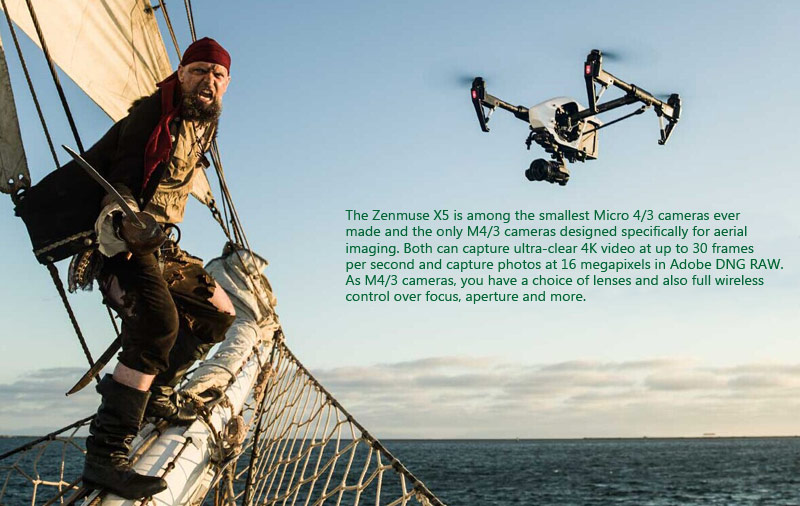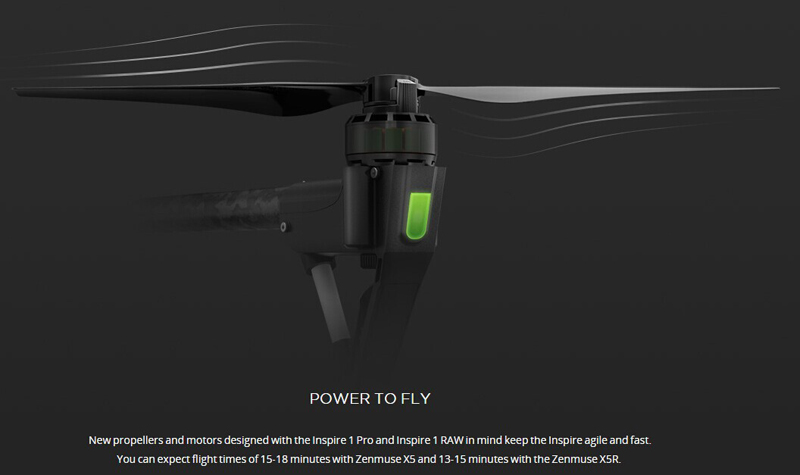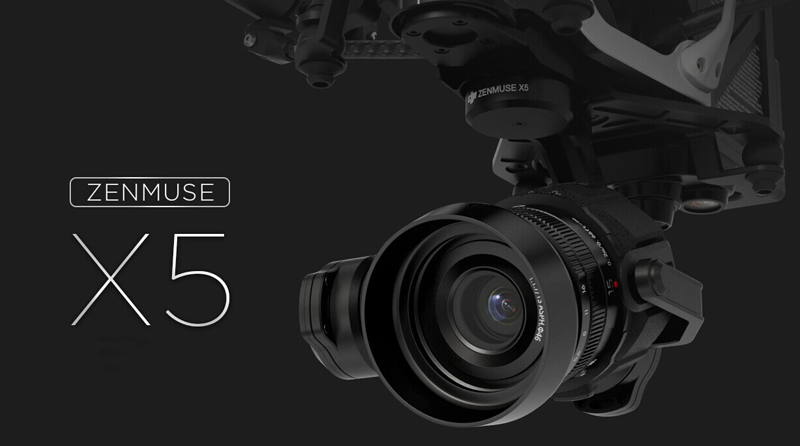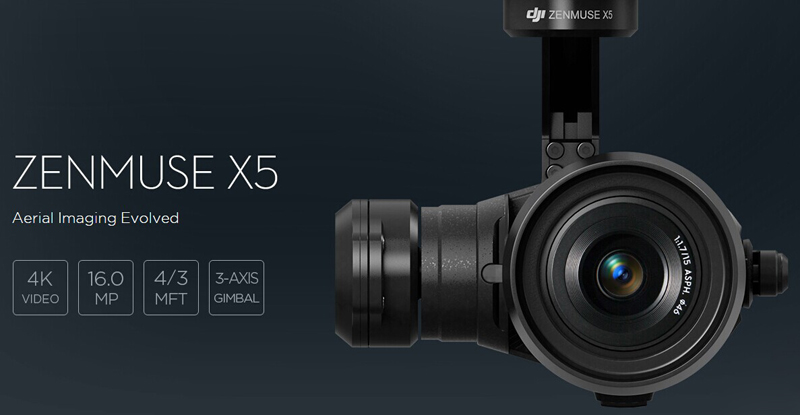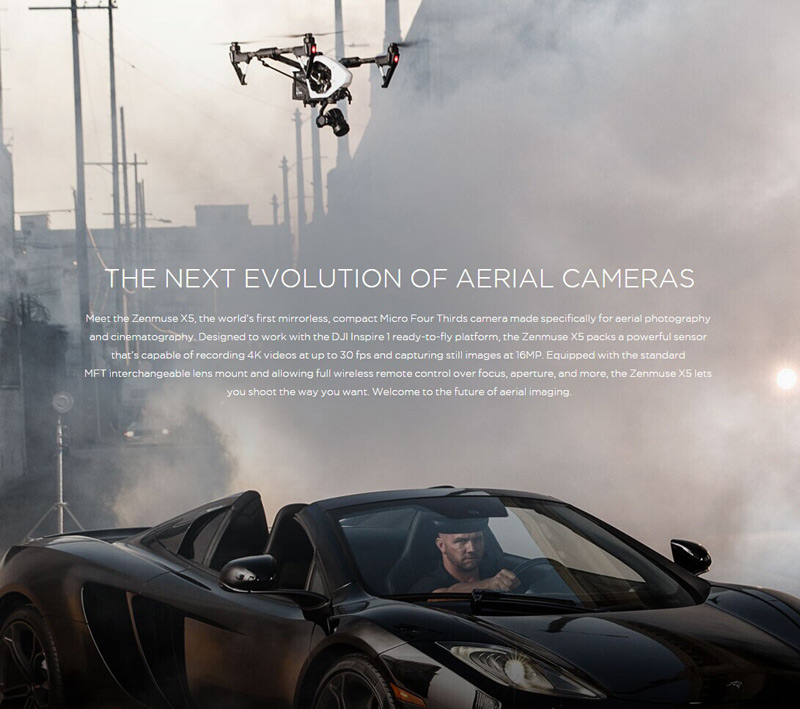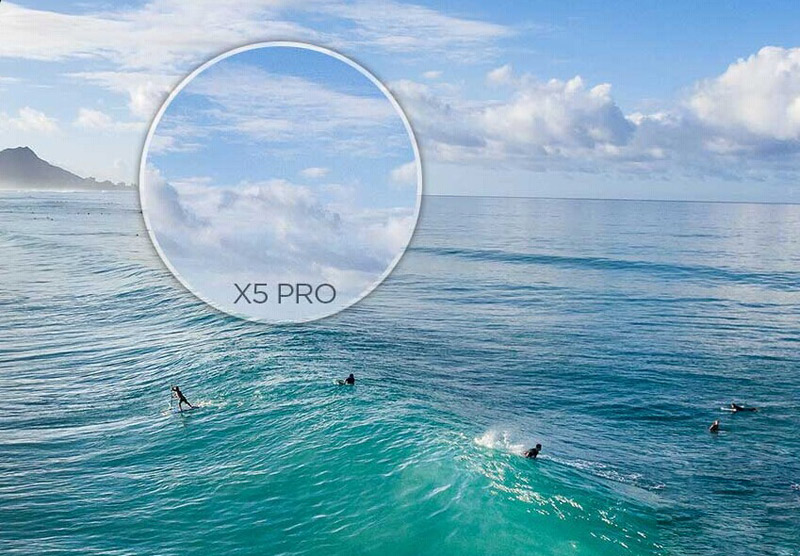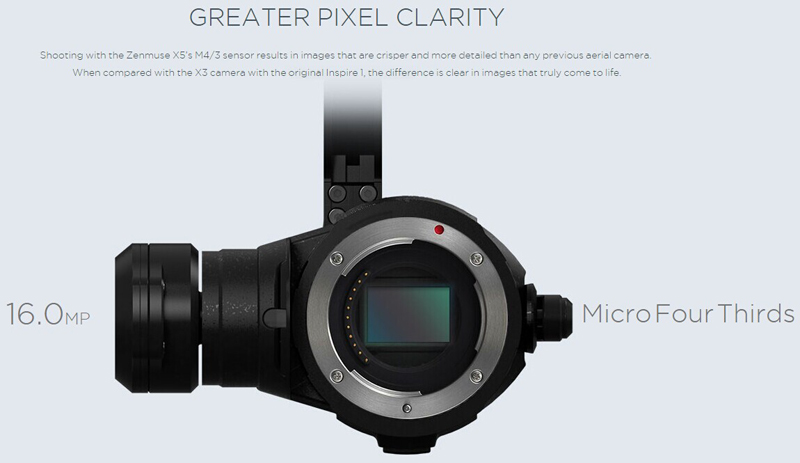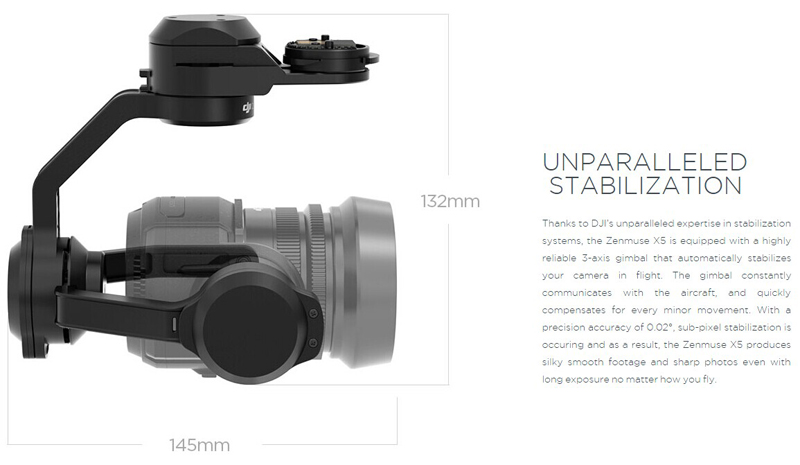 Features:
Ready-to-fly aerial system.
Included professional 4K camera and 3-axis stabilization gimbal (Zenmuse X5).
Live, wireless HD video transmission via DJI Lightbridge.
Dedicated remote with flight and camera controls.
Powerful app to adjust camera settings, edit videos, and more.
Vision Positioning system for GPS-free or indoor flight.
Perfection for high-level shoots and professional sets.
Specifications:
Aircraft:
Model: T600
Max Takeoff Weight: 3500g
Vertical: 0.5m
Horizontal: 2.5m
Max Angular Velocity: Pitch: 300°/s Yaw: 150°/s
Max Tilt Angle: 35°
Max Ascent Speed: 5m/s
Max Descent Speed: 4m/s
Max Speed: 18 m/s (ATTI mode, no wind)
Max Service Ceiling Above Sea Level: 4,500m (Software altitude limit: 120 m above takeoff point)
Max Wind Speed Resistance: 10m/s
Max Flight Time: Approx. 15minutes
Motor Model:DJI 3510H
Propeller Model: DJI 1345T
Indoor Hovering: Enabled by default
Operating Temperature: 14° to 104° F (-10° to 40° C)
Diagonal Distance: 559mm
Remote Controller:
Name: C1
Operating Frequency:
922.7~927.7MHz (Japan Only)
5.725~5.825GHz
2.400~2.483GHz
Max Transmitting Distance:
FCC Compliant: 3.1miles (5km); CE Compliant: 2.1miles (3.5km) (unobstructed, free of interference)
EIRP: 10dBm@900mMHz, 13dBm@5.8GHz, 20dBm@2.4GHz
Video Output Ports: USB, Mini HD
Power Supply: Built-in battery
Charging: DJI charger
Dual User Capability: Host-and-Slave connection
Mobile Device Holder: Tablet or Smart Phone
Max Mobile Device Width: 170mm
Output Power: 9W
Operating Temperature: 14° to 104° F (-10° to 40° C)
Storage Temperature:Less than 3 months: -4° to 113° F (-20° to 45° C)
More than 3 months: 72° to 82° F (22° to 28° C)
Charging Temperature:32° to 104° F (0° to 40° C)
Battery: 6000mAh 2S LiPo
Charger:
Model: A14-100P1A
Voltage: 26.3V
Rated Power: 100W
Battery:
Name: Intelligent Flight Battery
Model: TB47
Capacity: 4500mAh
Voltage: 22.2V
Battery Type: LiPo 6S High voltage battery
Energy: 99.9Wh
Net Weight: 570g
Operating Temperature: 14° to 104° F (-10° to 40° C)
Storage Temperature:
Less than 3 months: -4° to 113° F (-20° to 45° C)
More than 3 months: 72° to 82° F (22° to 28° C)
Charging Temperature: 32° to 104° F (0° to 40° C)
Max Charging Power: 180W
Vision Positioning:
Velocity Range: < 8m/s @altitude 6.56 feet (2m)
Altitude Range: 0.16 - 16.4 feet (5-500cm)
Operating Environment: Surfaces with clear patterns and adequate lighting (> 15lux)
Operating Range: < 9.84 feet (300cm)
General:
Name: Zenmuse X5
Dimensions: 120(W) * 135(H) * 140(D)mm
Weight: 530g (Including original lens, balancing ring, lens hood, Micro SD card)
Operating Temperature: 32° to 104° F (0° to 40° C)
Original Lens:
Name: DJI MFT 15mm f/1.7 ASPH
Focal Length: f=15mm (35mm format equivalent 30mm)
Aperture Type: 7 diaphragm blades/circular aperture diaphragm
Maximum Aperture: F1.7
Minimum Aperture: F16
Lens Construction: 9 elements in 7 groups (3 aspherical lenses)
In Focus Distance: 0.2 m to ∞ (from the focus distance reference line)
Mount: Micro Four Thirds Mount
Angle Of View: 72°
Max. Diameter: Approx. 2.26 inches (57.5mm)
Overall Length: Approx. 1.42 inches (36mm)
Weight: Approx. 115g
Camera:
Lens: Replaceable lens M43 mount supporting auto-focus
Supported Lens:
DJI MFT 15mm f/1.7 ASPH
Panasonic Lumix G Leica DG Summilux 15mm f/1.7 ASPH
Olympus M.Zuiko Digital ED 12mm f/2.0
Olympus M.Zuiko 17mm f1.8 (Balancing ring will be available on the DJI Store soon)
Sensor: Type 4/3 CMOS sensor
Effective Pixels: 16M
Max Resolution: 4608 * 3456
ISO Range: 100-25600
Electronic Shutter Speed: 8s-1/8000s
Field Of View: DJI MFT 15mm f/1.7 ASPH 72°
Still Photography Modes: Single shot
Burst shooting: 3/5/7 frames
Auto Exposure Bracketing (AEB): 3/5 bracketed frames at 0.7EV bias
FHD: 1920 * 1080 24/25/30/48/50/60p
Max Video Bitrate: 60Mbps
Supported File Systems: FAT32 (≤ 32 GB), exFAT (> 32 GB)
Photo Formats: JPEG, DNG (RAW)
Video Formats: MP4/MOV (MPEG-4 AVC/H.264)
Gimbal:
Angular Vibration Range: ±0.02°
Mount: Detachable
Controllable Range:
Pitch: -90° to +30°
Pan: ±320°
Max Controllable Speed:
Pitch: 120°/s
Pan: 180°/s
Package information:
Package size: 59 * 54 * 29cm / 23.3 * 21.3 * 11.4in
Package weight: 9960g / 22lb
Gift box package
Package list:
1 * DJI Inspire 1 Pro Quadcopter
1 * DJI Transmitters (mode 2)
1 * Zenmuse X5 Gimbal Camera (with 16GB SD Card)
1 * 22.2V 4500mAh Lipo Battery
1 * Battery Charger
1 * Gimbal Clamp
1 * Power Cable (US Plug)
2 * Micro-USB Cables
1 * Remote Controller Charging Cable
1 * Box for Zenmuse X5
1 * Carrying Case for Inspire 1 Pro
4 * Pair of Propplers
1 * User Manual
1.Does tomtop.com check the products before shipping them to me?
Yes., of course.
We have a professional Quality Control team. They will check carefully for each item we received from suppliers and manufacturers to avoid sending defective goods to our customers.
If a item is found defective in our QC test, it will be returned to the supplier / factory. Please don't worry about receiving a defective item because we are committed to being a trustworthy and reliable seller on international on-line shopping market.

2.Are Products Guaranteed / Is There A Warranty?
Yes, everything you buy from tomtop.com has a guarantee of quality and will exactly match the description on the website.
Factories that supply tomtop.com are strictly evaluated by us, and we provide you an even better reassurance of consistent high quality thanks to our in-house QC team. We double-check the contents of all orders carefully before dispatch to our customers. You can be confident about ordering from tomtop.com just as much as any western retailer.

3. How long dose it take to have my orders shipped after the payment is made?
1. Processing time 1-2 business days normally: During this period, we do strict quality-control tests and get the items carefully packed.
2. Sometimes the item in your order is really a hot seller and it may be just sold out at that time. It will take us 1-2 more days to get it available in stock again. In this case, The processing time will be 3 business days.
If you don't receive any shipping confirming over three days after the payment is made, please kindly contact our customer service . They will check for you.

4. What should I do if my items arrived damaged?
Rarely, rough handling by the courier can lead to physical damage to your goods, e.g. broken screen.
If this has happened, please follow these steps:
If possible, raise a complaint directly with the delivery representative of the courier company before you sign for the goods. They will advise you on the complaint procedure.
If you already signed for the packet, take photos showing the damage and contact the local office of the courier/delivery company to complain. They will have a complaining procedure which will enable you to get compensation.
Next, contact tomtop.com immediately with your order number and a full description / pictures of the broken item issue. We will contact the courier company from our end.
Once the courier company confirms that the case is valid, they will compensate tomtop.com, and we will pass on this compensation to you. The compensation varies from case to case and is different for each delivery company. In some cases you will need to pay to post the broken item back to tomtop.com in order for us to send out a new piece.

5. What should I do if my products go broken after a period of use?
If you encounter quality issues within the warranty period, you can ask for us. Every product has a specific warranty period. If it is not stated in the product listing, please contact our consumer service team.

In this case, please kindly provide us with proof as below:
The photos of original tomtop.com package with front and back sides
The photos or video of the defective item(s)
The photos, video or screenshot showing the malfunction of the defective item(s)

We will usually offer you a refund or send a replacement as soon as the problem is confirmed.
Sometimes you may need to ship the defective item back to us for free repair service or a new replacement. Customer should cover the return shipping fee, and tomtop.com is responsible for the shipping costs of arranging reshipment by air mail.