>
>
Note :we will pay tariffs in advance when the
DJI Mavic Pro
ship to these countries : UK, FR, DE, ES, IT ,Belgium ,Austria, Czech Republic, Denmark, Hungary, Ireland, Luxembourg, the Netherlands, Poland, Slovakia, Slovenia, Sweden and so on .But Need 7-15 days delivery
The DJI Mavic Pro is a small yet powerful drone that turns the sky into your creative canvass easily and without worry, helping you make every moment an aerial moment. Its compact size hides a high degree of complexity that makes it one of DJI's most sophisticated flying camera ever. 24 high-performance computing cores, an all-new transmission system with a 4.3mi (7Km) range, 4vision sensors, and a 4K camera stabilized by a 3-aix mechanical gimbal, are at your command with just a push of your thumb or a tap of your finger.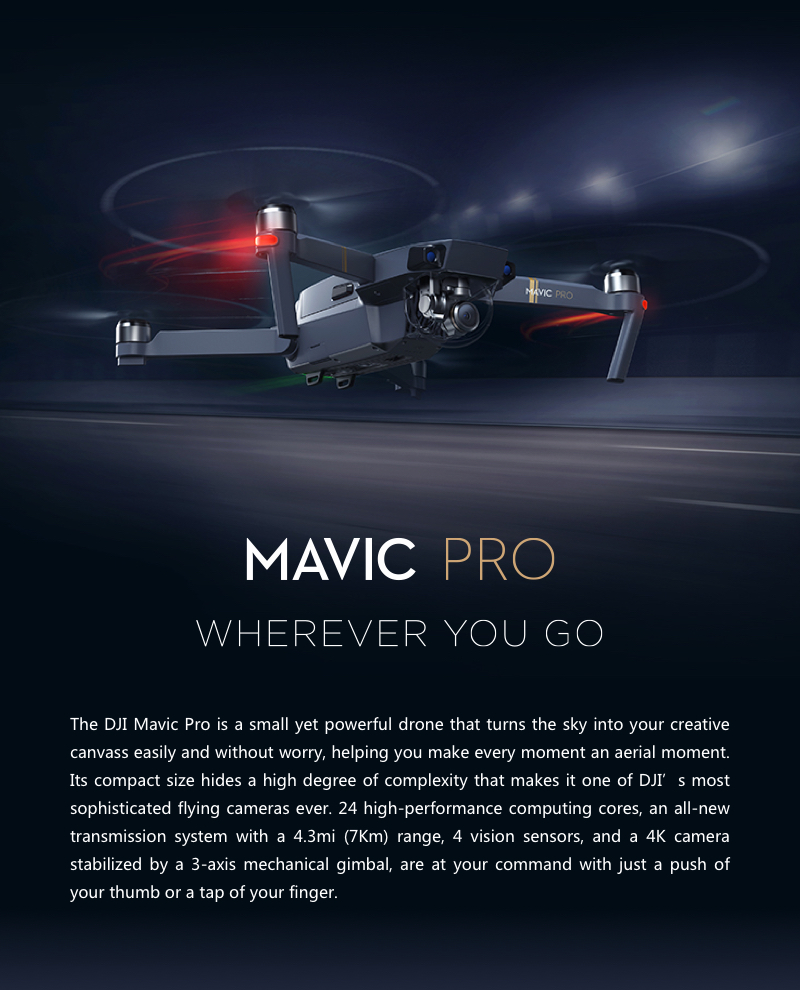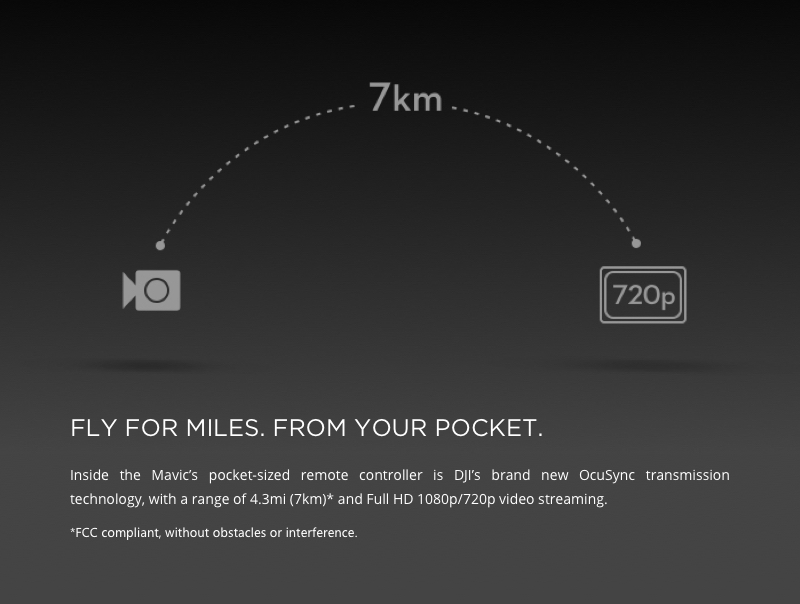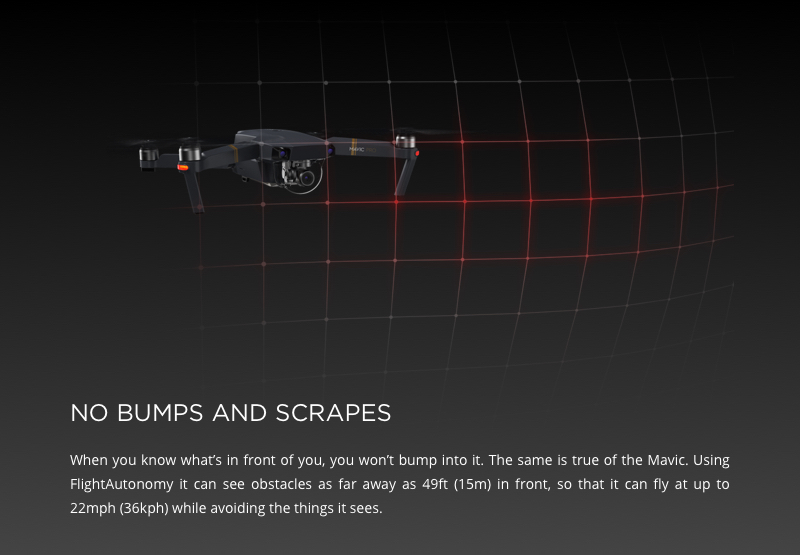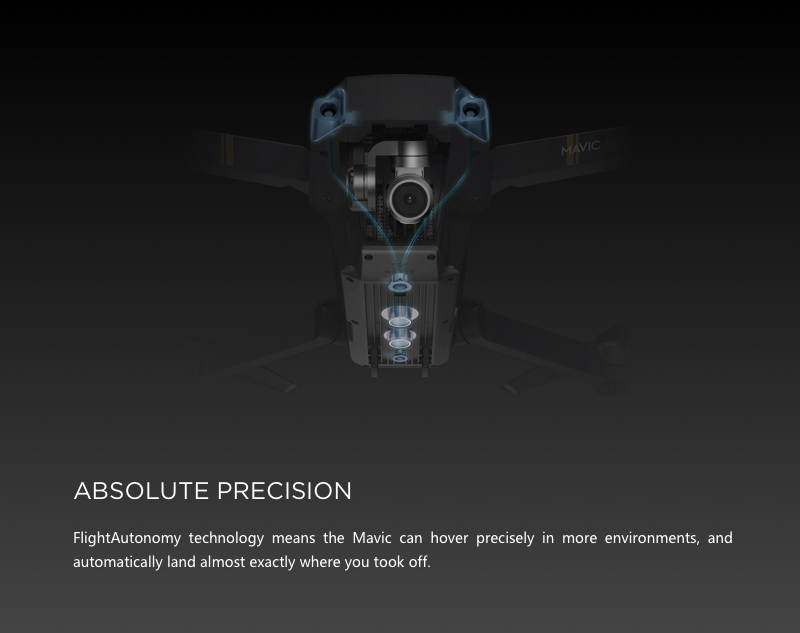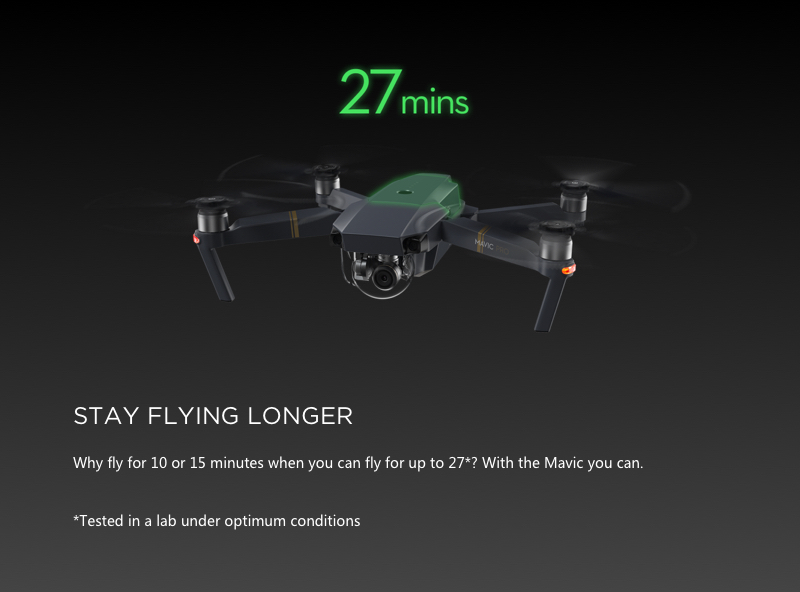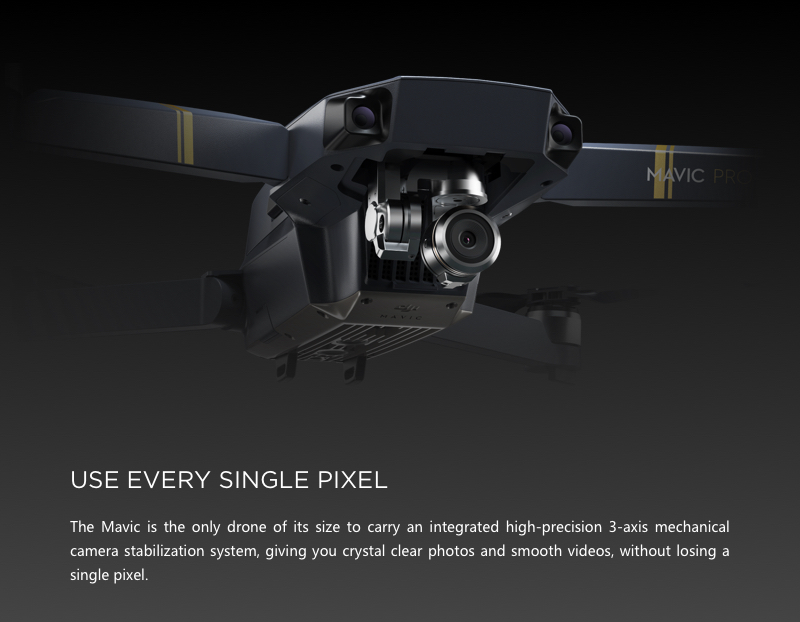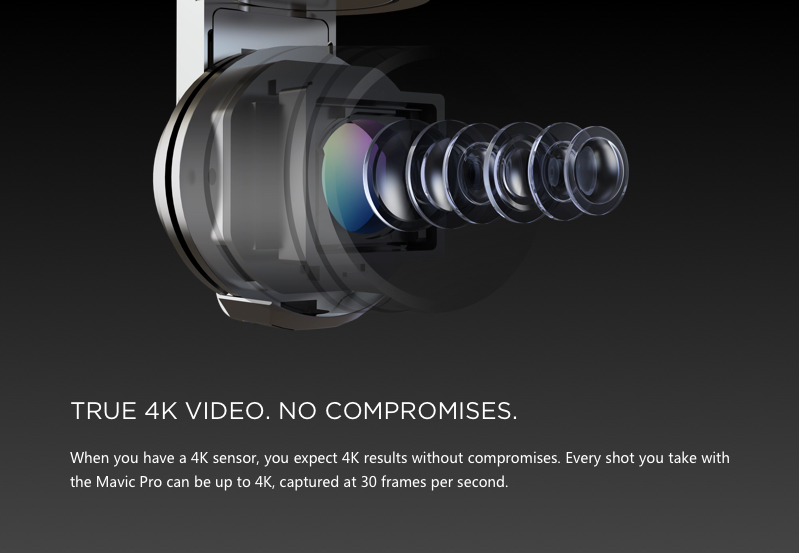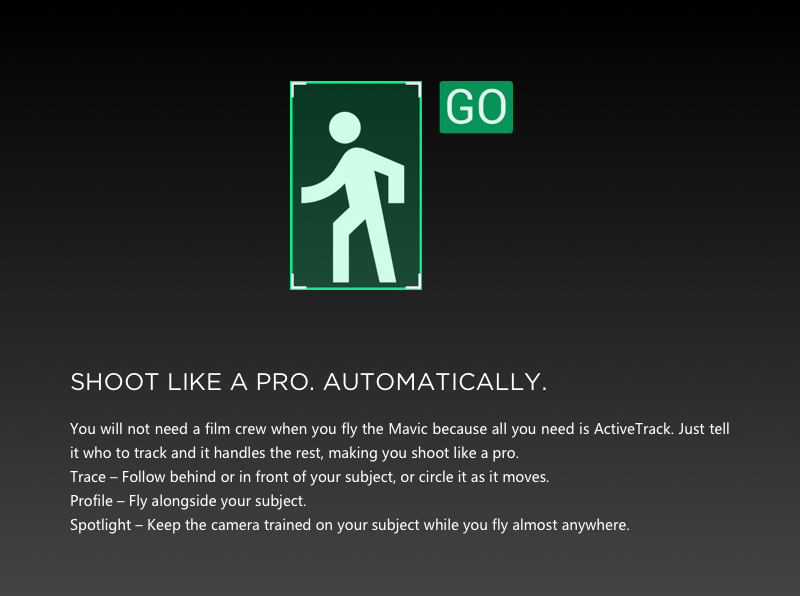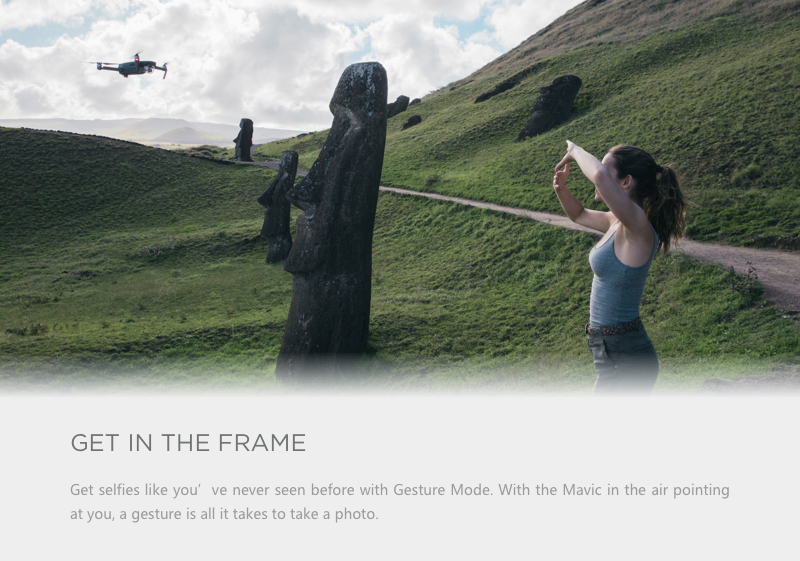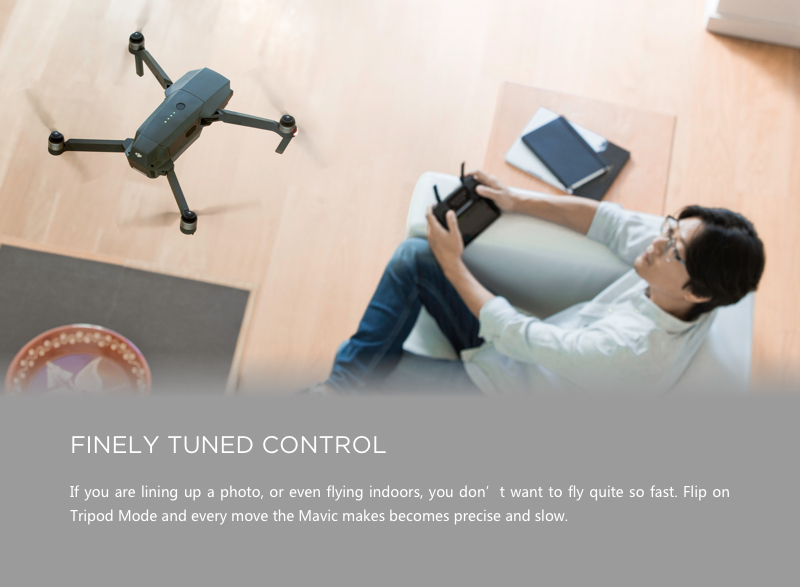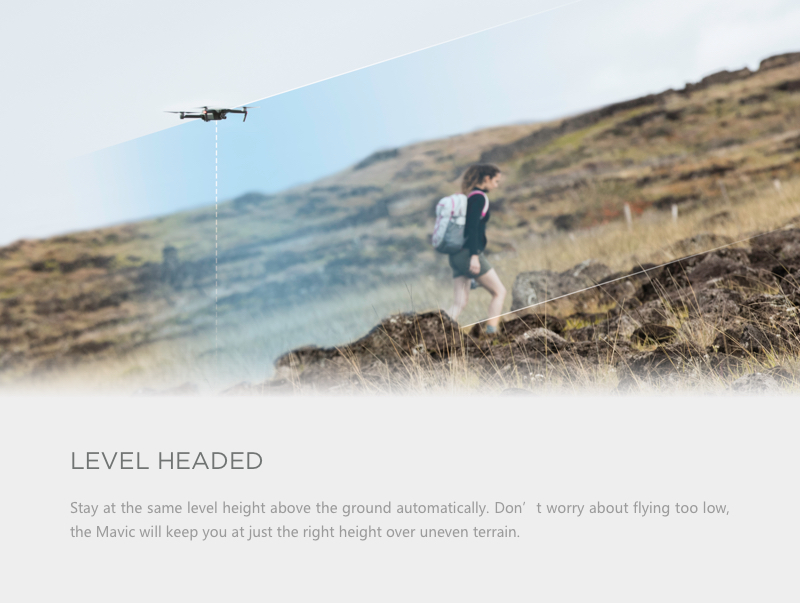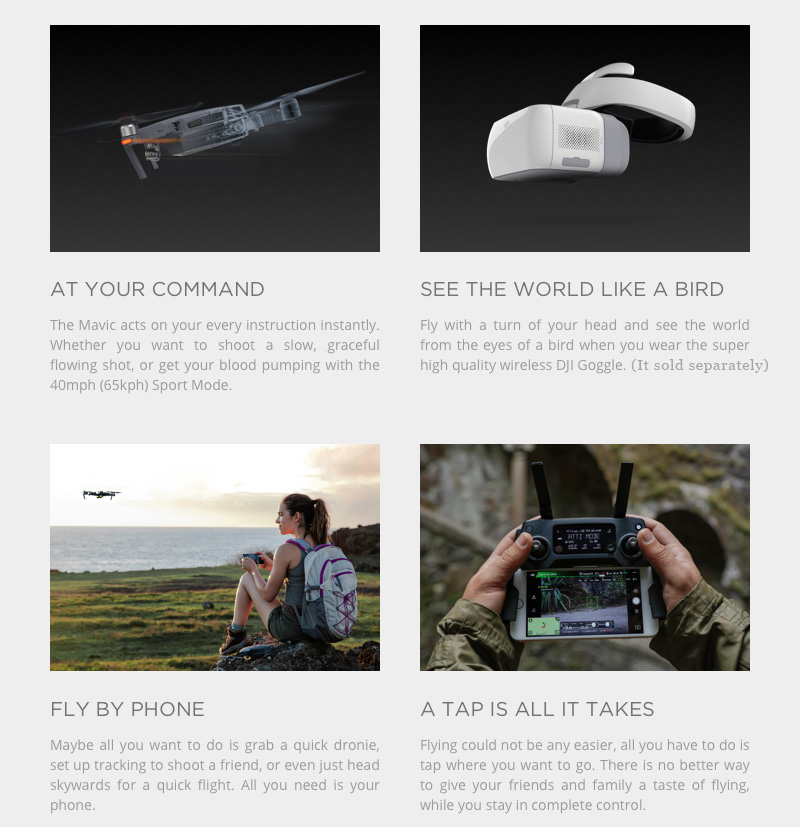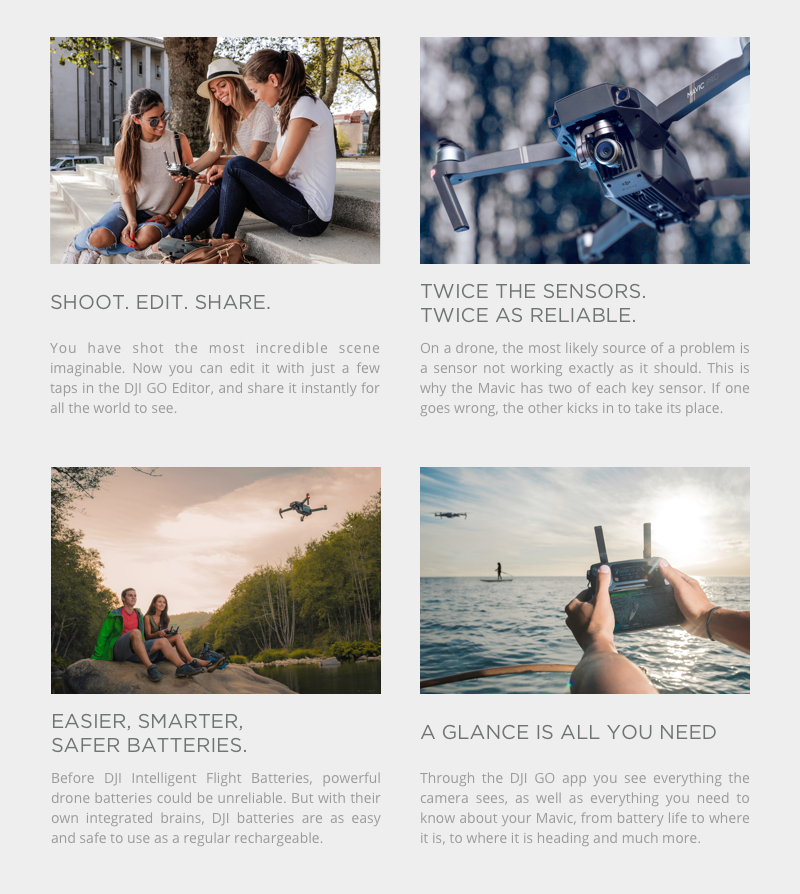 Features:
The DJI Mavic Pro folds down as small as a bottle of water, making it small enough to bring with you everywhere
New OcuSync transmission system offers up to 4.3 miles (7km) of transmission range
FlightAutonomy technology means the Mavic can hover precisely in more enviroments, and automatically land almost exactly where you took off
Fly at up to 40mph (64kmh) or for as long as 27mins
True 4K, fully stabilized ensures smooth footage
ActiveTrack, TapFly and other smart features make professional looking video effortless
Obstacle Avoidance combined with sensor redundancy increases flight safety and reliability
Vision positioning paired with GPS and GLONASS ensures precise positioning indoor and outdoors
Fly by phone over Wi-Fi for even easier flight
High-precision 3-axis mechanical camera stabilization system
Get selfies like you've never seen defore with gesture mode
Specifications:
Quadcopter:
Brand: DJI
Model: Mavic Pro
Folded Size: 198 * 83 * 83mm
Weight (including battery and propellers):
1.62lb (734g) (exclude gimbal cover)
1.64lb (743g) (include gimbal cover)
Diagonal Size: 335mm
Max Ascent Speed: 6.4ft/s (5m/s) in sport mode
Max Descent Speed: 9.8ft/s (3m/s)
Max Speed: 40mph (65kph) in sport mode without wind
Max Service Ceiling Above Sea Level: 16404feet (5000m)
Max Flight Time: 27mins (0 wind at a consistent 15.5mph (25kph))
Max Hovering Time: 24mins (0 wind)
Overall Flight Time: 21mins (in normal flight, 15% remaining battery level)
Max Flight Distance: 8mi (13km, 0 wind)
Operating Temperature: 32° to 104° F (0° to 40° C)
GPS Mode: GPS/GLONASS
Remote Controller:
Operating Frequency: 2.4GHz to 2.483GHz
Max Transmission Distance:
FCC compliant 4.3mi/7km
CE compliant 2.5mi/4km (Unobstructed, free of interference)
Operating Temperature: 32° to 104° F/0° to 40° C
Battery: 2970mAh
Transmitter Power(EIRP):
FCC:≤26 dBm
CE:≤20 dBm
Operating Voltage: 950mA @ 3.7V
Supported Mobile Device Size: Thickness supported 6.5-8.5mm, max length 160mm
Supported USB Port Types: Lightning, Micro USB(Type-B), USB(Type-C)™
Camera:
Sensor: 1/2.3'' CMOS
Effective Pixels: 12.35M (total pixels:12.71M)
Lens:
FOV: 78.8° 28 mm (35 mm format equivalent) f/2.2
Distortion: <1.5% focus from 0.5 m to ∞
ISO Range: 100-3200 (video), 100-1600 (photo)
Shutter Speed: 8s -1/8000s
Image Max Size: 4000 * 3000
Still Photography Modes:
Single shot
Burst shooting: 3/5/7 frames
Auto Exposure Bracketing (AEB): 3/5 bracketed frames at 0.7
EV Bias
Interval
Video Recording Modes:
C4K: 4096 * 2160 24p
4K: 3840 * 2160 24/25/30p
2.7K: 2704 * 1520 24/25/30p
FHD: 1920 * 1080 24/25/30/48/50/60/96p
HD: 1280 * 720 24/25/30/48/50/60/120p
Max Video Bitrate: 60Mbps
Supported File Formats: FAT32 (≤ 32 GB); exFAT (> 32GB )
Photo: JPEG, DNG
Video: MP4, MOV (MPEG-4 AVC/H.264)
Supported SD Card Types:
Micro SD™
Max capacity: 64 GB. Class 10 or UHS-1 rating required
Operating Temperature: 32° to 104° F ( 0° to 40° C )
Gimbal:
Controllable Range:
Pitch: -90° to +30°
Roll: 0° or 90° (horizontally and vertically)
Stabilization: 3-axis (pitch, roll, yaw)
Flight Battery:
Capacity: 3830mAh
Voltage: 11.4V
Battery Type: 3S LiPo battery
Energy: 43.6Wh
Net Weight: 240g
Operating Temperature: 41° to 104° F ( 5° to 40° C )
Charger:
Voltage: 13.05 V
Rated Power: 50 W
Plug: US , UK and EU optional
Forward Vision System:
Obstacle Sensory Range:
Precision Measurement Range: 2 ft (0.7 m) to 49 ft (15 m)
Detectable Range: 49 ft (15 m) to 98 ft (30 m)
Operating Environment: Surface with clear pattern and adequate lighting (lux > 15)
Downward Vision System:
Velocity Range: ≤22.4mph (36kph) at 6.6ft (2m) above ground
Altitude Range: 1 - 43feet (0.3 - 13m)
Operating Range: 1 - 43feet (0.3 - 13m)
Operating Environment: Surface with clear pattern and adequate lighting (lux > 15)
Package Information:
Package size: 20 * 20 * 20cm / 7.9 * 7.9 * 7.9in
Package weight: 1800g / 3.97lb
Brand gift box package
Package List:
1 * DJI Mavic Pro RC Quadcopter
1 * Remote Controller
1 * 11.4V 3830mAh Intelligent Flight Battery
1 * Gimbal Cover
3 * Pair of Propeller
1 * Gimbal Clamp
1 * Charger
1 * Power Cable
1 * 16GB Micro SD Card
1 * Micro USB Cable
1 * RC Cable (lightning connector)
1 * RC Cable (standnard micro USB connector)
2 * RC Cable Slider
1 * English Manual
Méthodes d'expédition:
Lorsque vous commandez
du TOMTOP.com, vous recevrez un email de confirmation. Une fois que votre commande est expédiée, vous recevrez un courrier électronique avec les informations de suivi pour l'expédition de votre commande. Vous pouvez choisir votre mode de livraison sur la page Informations sur la commande au cours du processus de commande. TOMTOP.com propose différentes méthodes d'expédition pour vous:
Expédition de l'entrepôt chinois:
Type d'expédition
Pays
Temps d'expédition
Airmail et courrier recommandé
États-Unis, au Canada

6-14

jours ouvrables
Australie, Nouvelle-Zélande, Singapour

5-11

jours ouvrables
Royaume-Uni, France, Espagne, Allemagne, Pays-Bas, le Japon, la Belgique,
Danemark, Finlande, Irlande, Norvège, Portugal, Suède, Suisse

7-15

jours ouvrables
Brésil et le Mexique

10-25

jours ouvrables
Russie

10-20

jours ouvrables
Autres pays

7-25

jours ouvrables
Singapour et la Chine (EMS)
Tous les pays, sauf ceux énumérés ci-dessous

6-8

jours ouvrables
Le Brésil et la Russie

10-25

jours ouvrables
Expedited Shipping (DHL)
Partout dans le monde

3-7

jours ouvrables
Expédition à partir des entrepôts locaux:
Entrepôts
Type d'expédition
Temps d'expédition
Pays

UK

Entrepôt
Royal mail sans numéro de suivi

5-12

jours ouvrables
Peut être livré au Royaume-Uni et d'autres pays de l'UE.

UPS

3-7

jours ouvrables

US

Entrepôt
Air mail avec numéro de suivi

5-12

jours ouvrables
Ne peut être livré à l'Amérique.

UPS

3-7

jours ouvrables

DE

Entrepôt

DHL

3-8

jours ouvrables
Peut être livré à travers le monde. (Mais son coût d'expédition varie de
différents pays. Recommander à choisir si vous êtes en Europe.)
Le temps de transit dépend de l'endroit où vous vous trouvez et où votre colis vient. Si vous voulez en savoir plus d'informations, s'il vous plaît communiquer avec notre service à la clientèle par courriel à
wholesale@tomtop.com
. Nous allons régler votre problème dès que possible. Profitez de shopping!
Moyens de paiement:
TOMTOP.com accepte PayPal, Carte de crédit, Western Union, virement bancaire, QIWI et Yandex comme moyens de paiement sécurisés:
Global:

Russie
:
1. PayPal
1) Connectez-vous à votre compte ou utiliser la carte de crédit Express.
2) Entrez vos détails de carte, la commande sera expédiée à votre adresse PayPal. Et cliquez sur «Soumettre».
3) Votre paiement sera traité et un reçu sera envoyé à votre boîte e-mail.
2. Carte de crédit
1) Choisissez votre adresse de livraison ou de créer un nouveau.
2) Entrez vos détails de carte et cliquez sur «Soumettre».
3) Votre paiement sera traité et un reçu sera envoyé à votre boîte e-mail.
3. Virement bancaire
Pour les commandes de plus de 500 $, s'il vous plaît contactez-nous et nous fournir les informations suivantes: votre numéro de commande, le montant total payé, et la date exacte du transfert de fil.
4. Yandex
Yandex argent
Vous pouvez payer à partir d'une bourse dans Yandex ou privyazannoyk sa carte. La Commission ne fait pas.
5. QIWI
1) Sélectionnez le pays où votre compte a été ouvert
2) Entrez le numéro de votre bourse QIWI
3) Entrez votre mot de passe et cliquez sur le bouton de paiement
4) Cliquez sur «payer avec QIWI", vous serez redirigé vers les détails de paiement via QIWI
5) Entrez votre mot de passe et cliquez sur le bouton de paiement
6) Votre paiement sera traité
7) Vous serez dirigé vers une page avec des détails de l'ordre pour confirmer
Vous allez être redirigé vers le site Web QIWI pour effectuer un paiement à partir de votre QIWI Wallet.
1.Est-ce que TOMTOP vérifie les produits avant de les expédier?
Oui, bien sûr.
Nous avons une équipe de professionnelles s'occupant du contrôle de qualité des produits. Ils vérifient soigneusement chaque article reçu par les fournisseurs et les fabricants afin d'éviter l'envoi de marchandises défectueuses à nos clients.
Si un élément est jugé défectueux lors de notre test de Contrôle Qualité, il sera retourné au fournisseur/usine. Donc, pas d'inquiétudes, nous nous sommes engagés à être un vendeur digne de confiance et fiable sur le marché international d'achats en ligne.

2.Y-a-t-il une garantie ?
Oui, tout ce que vous achetez sur TOMTOP a une garantie de qualité et va complétement correspondre à la description du site. Les usines fournissant TOMTOP sont strictement évaluées par nos soins afin de vous fournir une meilleure assurance et une qualité constante grâce à notre équipe de contrôle qualité. Nous vérifions par deux fois le contenu le contenu de toutes les commandes avant de les expédier à nos clients. Vous pouvez avoir confiance en TOMTOP tout autant que pour les détaillants de l'Ouest.

3.Combien de temps faut-il pour expédier ma commande après que le paiement soit accepté ?
- Normalement, le temps de traitement est de 1 à 2 jours ouvrables. Au cours de cette période, nous faisons des tests de contrôle de qualité strict et emballer soigneusement les articles.
- Parfois, l'article de votre commande est un produit très demandé et peut être épuisé. Il nous faudra donc 1 à 2 jours supplémentaire afin de l'avoir à nouveau en stock. Dans ce cas, le temps de traitement sera de 3 jours ouvrables.
Si après trois jours ouvrés, vous ne recevez pas de confirmation d'expédition et que le paiement est effectué, veuillez contacter le service clients. Ils vérifieront l'état de la commande pour vous.

4.Que dois-je faire si mes articles sont arrivés endommagés?
Il peut arriver de façon occasionnelle, qu'à cause d'une manipulation brutale du courrier, le colis subisse des dommages, comme par un exemple, un écran cassé. Si cela se produit, s'il vous plait, veuillez suivre ces étapes :
- Si possible, déballez le colis avant de signer pour la réception. S'il y a des dommages, portez directement plainte auprès du représentant de la société de transport. Ils vont informeront sur la procédure à suivre.
- Si vous avez déjà signé pour le colis, prenez des photos montrant les dégâts et envoyé les à la société de livraison. Ils vous dirigeront sur la procédure à suivre qui vous permettra d'obtenir une indemnisation.
- Ensuite, contactez TOMTOP avec votre numéro de commande et une description complète avec photos concernant l'article cassé. Nous prendrons contact avec la société de livraison de notre côté.
- Une fois que la société de livraison confirmera le litige, ils compenseront TOMTOP et nous vous transmettrons cette compensation. La compensation varie selon les cas et est différente pour chaque entreprise de livraison. Dans certains cas, vous devrez payer pour retourner l'article cassé chez TOMTOP, puis nous vous renverront un nouvel article.

5.Que dois-je faire si après une période d'utilisation, mes produits ne fonctionnent plus?
Si vous rencontrez des problèmes de qualité pendant la période de garantie, vous pouvez nous contacter. Chaque produit a une période spécifique de garantie. (Si elle n'apparaît pas sur le descriptif du produit, contactez-nous).

Dans ce cas, veuillez nous fournir les éléments ci-dessous :
- Photos originales du paquet TOMTOP faces avant et arrière.
- Photos ou vidéos concernant l'article défectueux.
- Photos, vidéos ou captures d'écran montrant le mauvais fonctionnement ou l'élément défectueux.

Généralement, nous allons vous rembourser ou envoyer un nouveau produit pour remplacer celui défectueux dès que le problème est confirmé.
Parfois, vous devrez expédier l'article vers nos services de réparation gratuite ou de remplacement. Le client doit couvrir les frais d'expédition de retour. TOMTOP sera responsable des frais de ports concernant l'envoie d'un nouvel article.