Description
Shipping & Payment
Warranty
Wholesale Inquiry
Feilun FT009 uses high-power 540 main motor as the drive system, using high-precision servo control steering system. Not only has a water cooling jacket wrapped around the motor, but a self-righting system that works great when it flips in wavy conditions.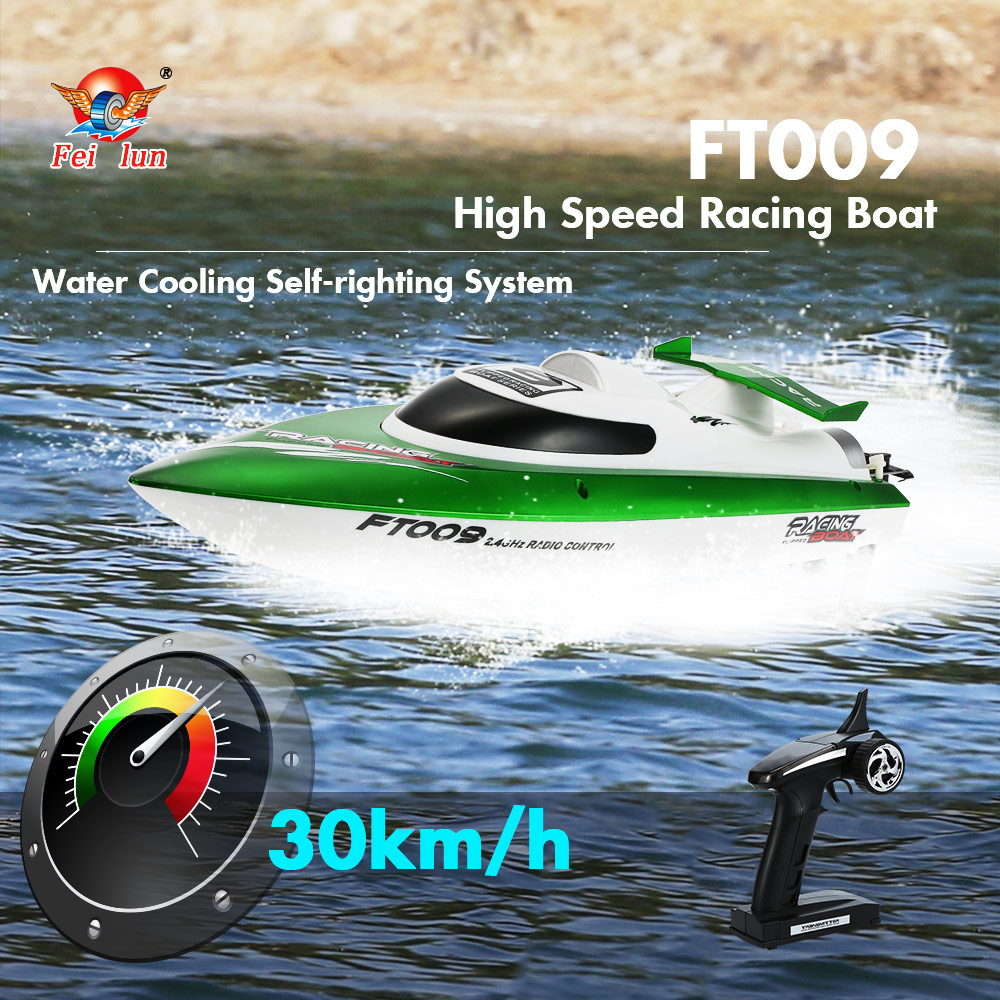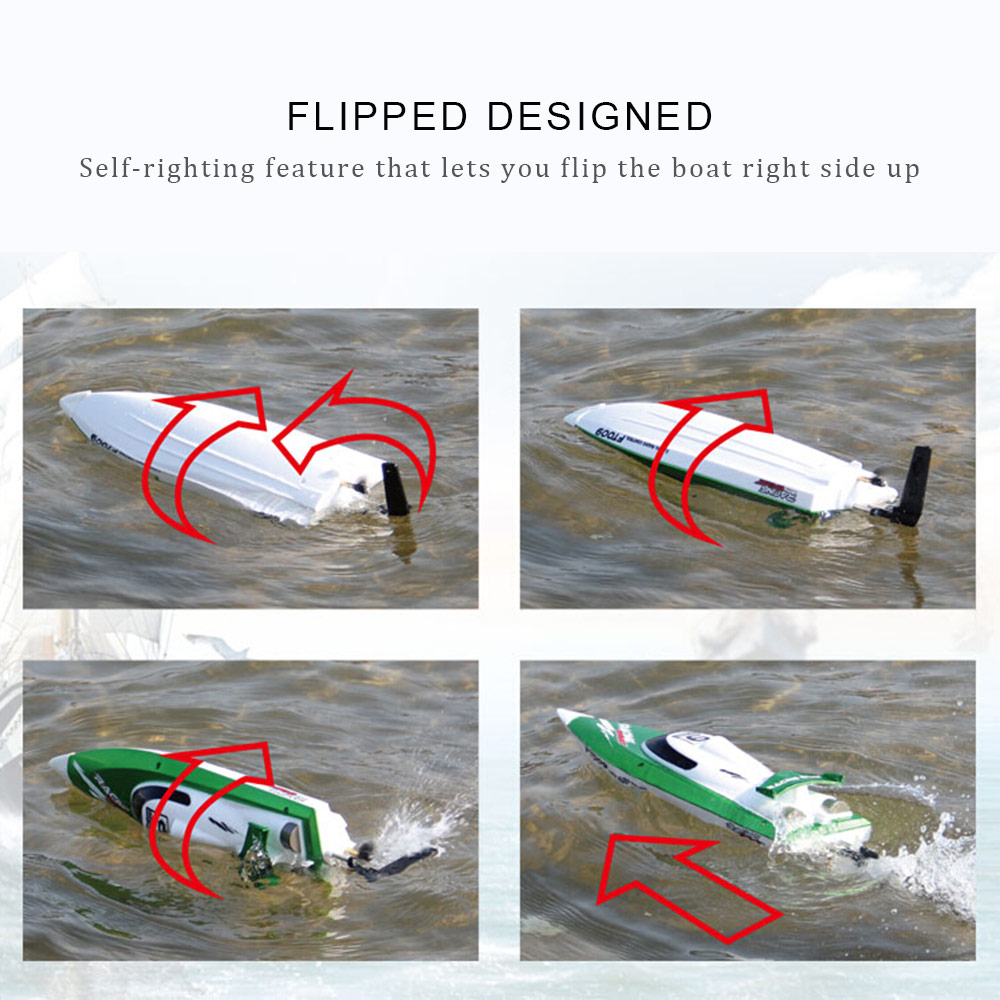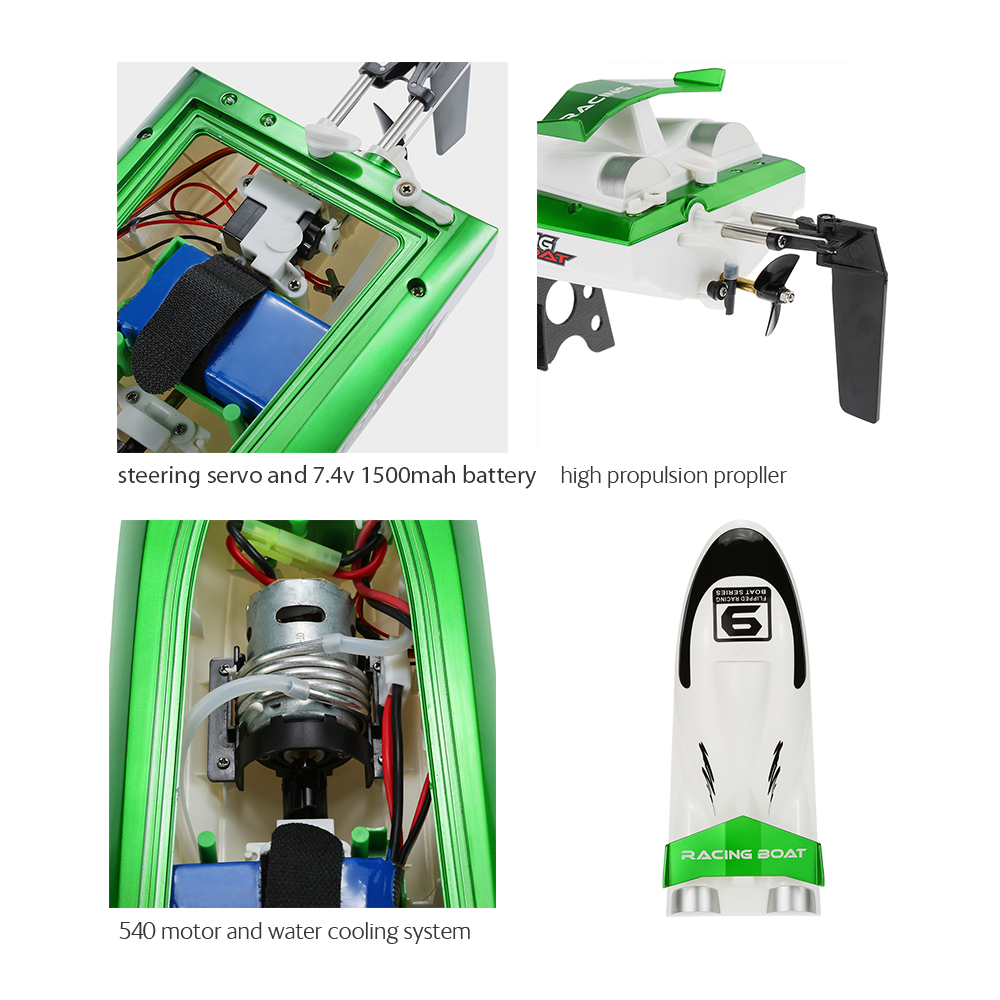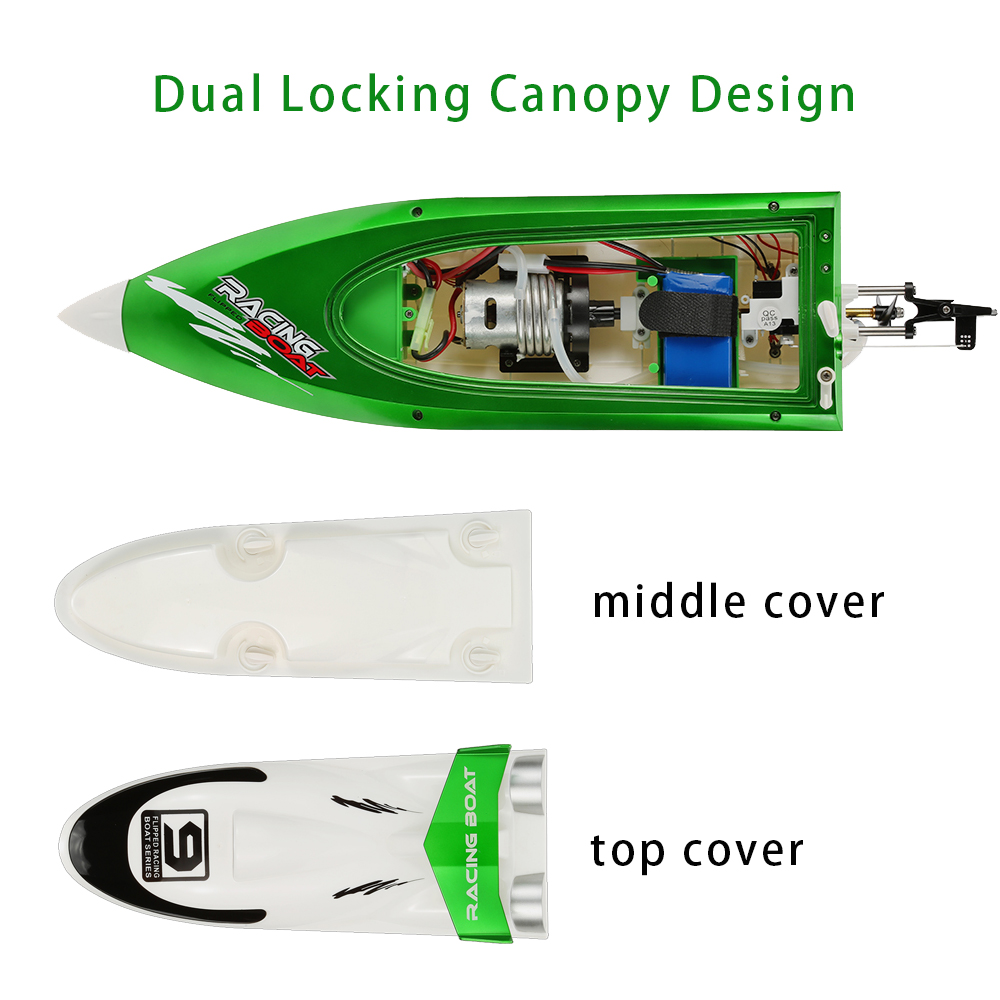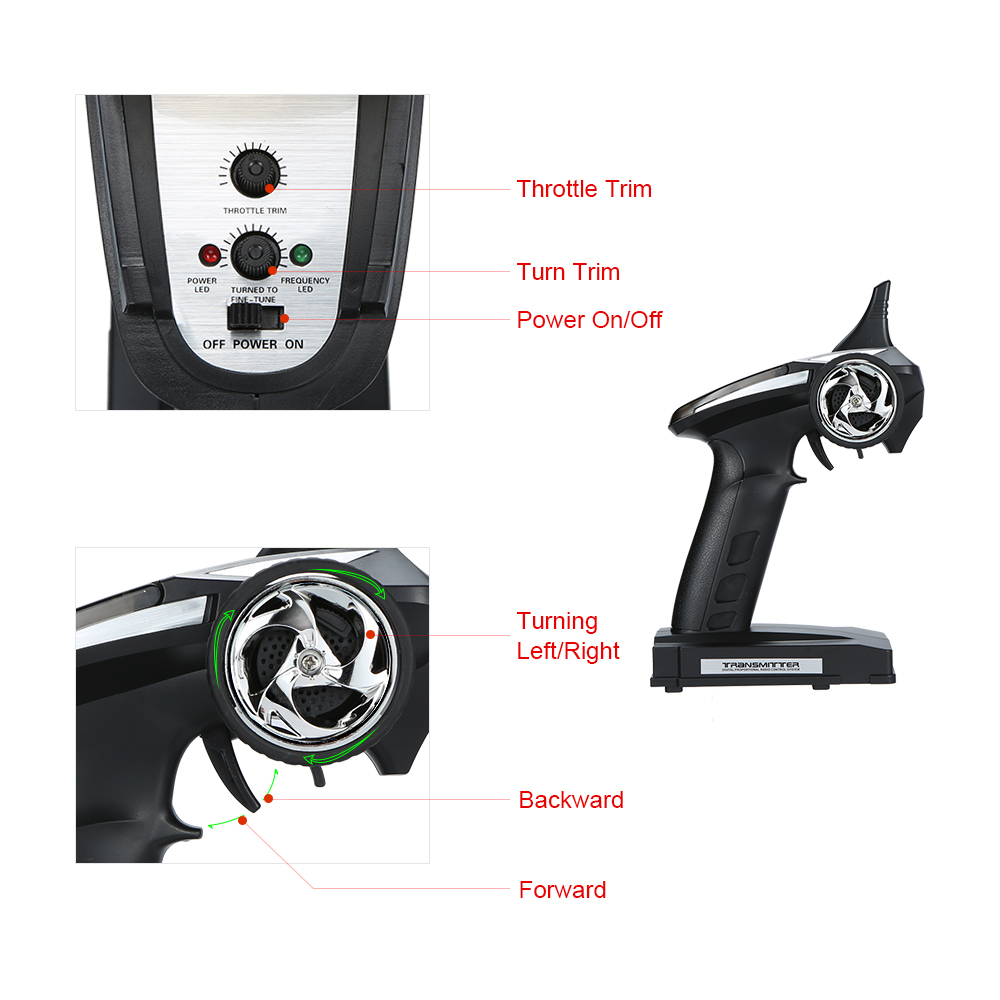 Features:
New high speed RC boat, speed up to 30km/h
Water cooling and self-righting system, safe and reliable
New design idea, novel appearance and exquisite workmanship
2.4G frequency technology can make it feature high capacity of resisting disturbance
Various functions like go forward / backward, turn left and right, with righting function, can be easily controlled
Specifications:
Brand: Feilun
Model: FT009
Color: Orange and green optional
Frequency: 2.4G
Material: ABS
Battery for transmitter: 6 * AA battery
(not included)
Battery for boat: 7.4V 1500mAh LiPo battery
Operation distance: About 100-150 meters
Running speed: Max to 30km/h
Charging time: About 3 hours
Serviceable time: About 5-6min
Function: Go forward, backward, turn left and right, with flip self-righting function
Item size: 465 * 120 * 110mm
Item weight: 610g
(battery excluded)
Package Information:
Package size: 50 * 20 * 18cm / 20 * 7.9 * 7.1in
Package weight: 1421g / 3.13lb
Brand gift box package
Package List:
1 * Feilun FT009 RC boat
1 * Transmitter
1 * 7.4V 1500mAh LiPo battery
1 * Pair of Spare propeller
1 * Charger with EU plug
1 * US Plug Adapter
1 * Boat Holder
2 * Anti-collision Bumper
1 * English Manual
Shipping Methods:
When you order from TOMTOP.com, you will receive a confirmation email. Once your order is shipped, you will be emailed with the tracking information for your order's shipment. You can choose your preferred shipping method on the Order Information page during the checkout process. TOMTOP.com offers different shipping methods for you:
Shipping from Chinese Warehouse:
Shipping Type
Country
Shipping Time
Airmail and register airmail
United States,Canada
10-20 business days
Australia, New Zealand, Singapore
15-25 business days

United Kingdom, France, Spain, Germany, Netherlands, Japan, Belgium,

Denmark, Finland, Ireland, Norway, Portugal, Sweden, Switzerland

20-30 business days
Brazil and Mexico
20-35 business days
Russia
20-35 business days
Other countries
10-25 business days
Singapore & China (EMS)
All countries except those listed below
6-10 business days
Brazil and Russia
10-25 business days
Expedited Shipping(DHL)
Worldwide
3-7 business days
Shipping from Local Warehouses:
Warehouses
Shipping Type
Shipping Time
Country
UK Warehouse
Royal mail without tracking number
5-12 business days
Can be delivered to UK & other EU countries.
UPS
3-7 business days
USA Warehouse
Air mail with tracking number
5-12 business days
Can only be delivered to America.
UPS
3-7 business days
DE Warehouse
DHL
3-8 business days

Can be delivered to worldwide. (But its shipping cost varies from

different countries. Recommend to choose if you are in Europe.)
The transit time depends on where you're located and where your package comes from. If you want to know more information, please contact our customer service. We will settle your problem as soon as possible. Enjoy shopping!
Payment Methods:
TOMTOP.com accepts PayPal, Credit Card, Western Union, Wire Transfer, QIWI and Yandex as secure payment methods:
Global:
1. PayPal
1) Login To Your Account or use Credit Card Express.
2) Enter your Card Details, the order will be shipped to your PayPal address. And click "Submit".
3) Your Payment will be processed and a receipt will be sent to your email inbox.
2. Credit Card
1) Choose your shipping address OR create a new one.
2) Enter your Card Details and click "Submit".
3) Your Payment will be processed and a receipt will be sent to your email inbox.
3. Wire Transfer
For orders more than $500, please contact us and provide us with the following information: your order number, the total amount paid, and the exact date of the wire transfer.
4. Yandex
Яндекс.Деньги
Вы можете заплатить из кошелька в Яндекс.Деньгах или с привязаннойк нему карты. Комиссии нет.
5. QIWI
1) Выберите страну, где был открыт ваш счет
2) Введите номер вашего QIWI кошелька
3) Введите номер, ваш пароль и нажмите на кнопку оплаты
4) Нажмите на "оплатить с QIWI", Вы будете перенаправлены на страницу с деталями платежа через QIWI
5) Введите номер ваш пароль и нажмите на кнопку оплаты
6) Ваш платеж будет обработан
7) Вы будете направлены на страницу с деталями заказа для подтверждения

Вы будете перенаправлены на сайт QIWI, чтобы произвести оплату с вашего QIWI Wallet.
1.Does TOMTOP check the products before shipping them to me?
Yes, for sure.
We have a professional Quality Control team. They will check carefully for each item we received from suppliers and manufacturers to avoid sending defective goods to our customers.
If a item is found defective in our QC test, it will be returned to the supplier / factory. So please don't worry about receiving a defective item because we are committed to being a trustworthy and reliable seller on international on-line shopping market.

2.Are Products Guaranteed / Is There A Warranty?
Yes, everything you buy from TOMTOP has a guarantee of quality and will exactly match the description on the website.
Factories that supply TOMTOP are strictly evaluated by us, and we provide you an even better reassurance of consistent high quality thanks to our in-house QC team. We double-check the contents of all orders carefully before dispatch to our customers. You can be confident about ordering from TOMTOP just as much as any western retailer.

3. How long dose it take to have my orders shipped after the payment is made?
1.Processing time 1-2 business days normally: During this period, we do strict quality-control tests and get the items carefully packed.
2.Sometimes the item in your order is really a hot seller and it may be just sold out at that time. It will take us 1-2 more days to get it available in stock again. In this case, The processing time will be 3 business days.
If you don't receive any shipping confirming over three days after the payment is made, please kindly contact our customer service . They will check for you.

4. What should I do if my items arrived damaged?
Rarely, rough handling by the courier can lead to physical damage to your goods, e.g. broken screen.
If this has happened, please follow these steps:
If possible, raise a complaint directly with the delivery representative of the courier company before you sign for the goods. They will advise you on the complaint procedure.
If you already signed for the packet, take photos showing the damage and contact the local office of the courier/delivery company to complain. They will have a complaining procedure which will enable you to get compensation.
Next, contact TOMTOP immediately with your order number and a full description / pictures of the broken item issue. We will contact the courier company from our end.
Once the courier company confirms that the case is valid, they will compensate TOMTOP, and we will pass on this compensation to you. The compensation varies from case to case and is different for each delivery company. In some cases you will need to pay to post the broken item back to TOMTOP in order for us to send out a new piece.

5. What should I do if my products go broken after a period of use?
If you encounter quality issues within the warranty period, you can ask for us. Every product has a specific warranty period(If it is not stated in the product listing, contact us).

In this case, please kindly provide us with proof as below:
The photos of original TOMTOP package with front and back sides
The photos or video of the defective item(s)
The photos, video or screenshot showing the malfunction of the defective item(s)

We will usually offer you a refund or send a replacement as soon as the problem is confirmed.
Sometimes you may need to ship the defective item back to us for free repair service or a new replacement. Customer should cover the return shipping fee, and TOMTOP is responsible for the shipping costs of arranging reshipment by air mail.

tomtop192
Monday to Friday, 09:00 AM - 06:00 PM, (UTM+8)

sales192@tomtop.com
Monday to Friday, 09:00 AM - 06:00 PM, (UTM+8)
Customer Reviews
5 stars

82%

4 stars

18%

3 stars

2 stars

1 stars
Share your thoughts with other customers and get Tomtop Points, the first 5 reviews get DOUBLE Tomtop Points!
Write a Customer Review
Overall:

Usefulness:

Shipping:

Price:

Quality:

By d***d May 12, 2017

Overall:

Usefulness:

Shipping:

Price:

Quality:

By h***4 May 12, 2017

Overall:

Usefulness:

Shipping:

Price:

Quality:

By y***n May 10, 2017

Overall:

Usefulness:

Shipping:

Price:

Quality:

By j***e April 27, 2017

Overall:

Usefulness:

Shipping:

Price:

Quality:

By p***u December 8, 2016

Overall:

Usefulness:

Shipping:

Price:

Quality:

By b***0 August 30, 2016

Overall:

Usefulness:

Shipping:

Price:

Quality:

By i***6 August 29, 2016

Feilun has hit a home run with the FT009 RC Racing Boat. I have been watching some other videos that users have posted but I don't think they really capture how fast this little boat really is or how much fun it can be. It goes about 15 mph on a full charge for a few minutes.

Overall:

Usefulness:

Shipping:

Price:

Quality:

By l***3 August 28, 2016

This is a great RC boat! I was given a different model for a birthday present, but it didn't have a water-cooled motor and the motor stopped working after only about three runs because of overheating. I chose this model because it does have a water cooling jacket wrapped around the motor (coils of tube that water flows through). I have run it dozens of times and it has worked perfectly. It is pretty durable and it is very water tight. It is fast, turns sharp, and is a lot of fun.

Overall:

Usefulness:

Shipping:

Price:

Quality:

By g***9 August 24, 2016

Wham Pop! Bangin-awesome boat here... Absolutely tickled pink with it. It's a crowd pleaser! - had it out on the lake with a gaggle of humans lining the shore oohing and ahhhing my every turn. at one point the wind kicked up some waves, up my little Mr. FT009 went, twisted and turned into air, and then vrrrrmmmbbb, bbbbb, bubbles on the water... and nothing, gone. it had dove itself under the surface of the water when it was finished with it's birdy impression. "Damnit all, I just got this thing" I was thinking as I pondered stripping down to my undies to go skin-diving for a parts boat when *ploooop* it just popped out of the water. I picked the remote back up off the rocks and - Miracle! back to 20mph & jumping waves.

Overall:

Usefulness:

Shipping:

Price:

Quality:

By s***e August 23, 2016

This thing is an absolute blast to use! It starts out slow and then...BAM...it FLIES over the water! I like how the remote beeps when you're battery is going to die. I do wish however that the battery lasted a little longer. I think you get about 6-7 minutes in a full charge. I did buy an extra battery, but it overheated and nearly caught fire on the first recharge!

Overall:

Usefulness:

Shipping:

Price:

Quality:

By k***a August 22, 2016

Overall:

Usefulness:

Shipping:

Price:

Quality:

By a***5 August 21, 2016

Live on a lake and love taking this guy out on the water. It goes very fast for its size, cuts really nice in the water, it's super easy to get it to flip back over if it does roll over, and it gets great distance from you. It's really cool how it won't work when it's out of water, but once you set it in the water and pull back on the rc trigger, it comes alive no problemo. And more importantly, it signals an alarm when the battery is about to die so that you don't get stuck out in the lake. Love it!

Overall:

Usefulness:

Shipping:

Price:

Quality:

By j***i August 21, 2016

I bought two of these at the same time. We have a large rain water runoff pond behind our house and these are perfect for the size pond we have. They are very fast, turn on a dime and are a lot of fun to play with. I would suggest buying 2 extra batteries as they only last about 10 minutes when you run them at top speed. The trim functions work, they don't fill with water and I have yet to turn one over in the water. The remote beeps when you are close to running out of battery power and you can drive it back to your "dock".

Overall:

Usefulness:

Shipping:

Price:

Quality:

By r***o August 20, 2016

Totally awesome! I bought this for my fiance for his 23rd birthday. He wasn't expecting it at all since he was expecting to get a "gown up" gift; a watch or something. He absolutely loves it!! He's always waiting for the perfect weather to go take it out. He is happy that even though he is 23, he can still be a kid with something.

Overall:

Usefulness:

Shipping:

Price:

Quality:

By a***e August 19, 2016

Overall:

Usefulness:

Shipping:

Price:

Quality:

By t***k August 17, 2016

This is a great little boat, have had this for about a year and no issues, no water has gotten in at all, purchased the 2800mah batteries and will test them this weekend, don't even use my traxxas Spartan anymore, putting it up for sale. Would definitely recommend this boat and already have.

Overall:

Usefulness:

Shipping:

Price:

Quality:

By t***l August 16, 2016

Very nice boat. 6 year old was able to easily manuver boat and enjoys it a lot. Boat has been rammed several times (full speed) into the side of a lake bank. Boat has also hit (once) metal support structures of a lake fountain at full speed. In all occasions the boat has survived without any issues. This boat is fast and durable. Battery life is about 10 to 12 minutes and prior to dying completly the boat exhibits reduced power (very noticable power reduction) to warn operator of impending shut down. Reduced power provides at best 30% power for about 10 seconds to get boat back. So recommed keeping boat near shore after 9 to 10 minutes and immedetly bring the boat back to shore when you notice power loss. Battery does take time to charge so an extra battery would be benefical.

Overall:

Usefulness:

Shipping:

Price:

Quality:

By m***e August 14, 2016

This is a fun and fast RC boat! I had a great time playing with it on our pond until it froze over. I did purchase an extra battery, but I've only used it once after the primary battery ran down. The boat can capsize when traveling over its own wake, but the instructions to right it work like a charm! It also has the capability to back up, so if I run it into any flotsam, I can extricate it without wading in after it. I appreciate the fact that it comes with a USB charger, so I don't have to set a timer while charging the battery. I highly recommend this toy!

Overall:

Usefulness:

Shipping:

Price:

Quality:

By s***e August 13, 2016

Overall:

Usefulness:

Shipping:

Price:

Quality:

By m***o August 12, 2016

This boat is awesome. We bought another brand and had to replace it. We bought this as a replacement and so far this has been awesome. We have used the boat 6 or 7 times so far, so I can't speak much to the longevity of the boat, but so far it feels/looks sturdy, the remote is high-quality and its FAST! Make sure you've got a large area to drive this in..in a swimming pool we could barely touch the throttle, but at Central Park at the big ponds/reservoir it is AWESOME!
See All 22 Customer Reviews