Description
Shipping & Payment
Warranty
Q&A
The CT3392B includes two boats: CT3392B-1, 40MHz and CT3392B-2, 27MHz RC racing boats. They are wireless controlled that is fast, fun and easy to play with. The pool is already there for you. Get ready to enjoy it with your family!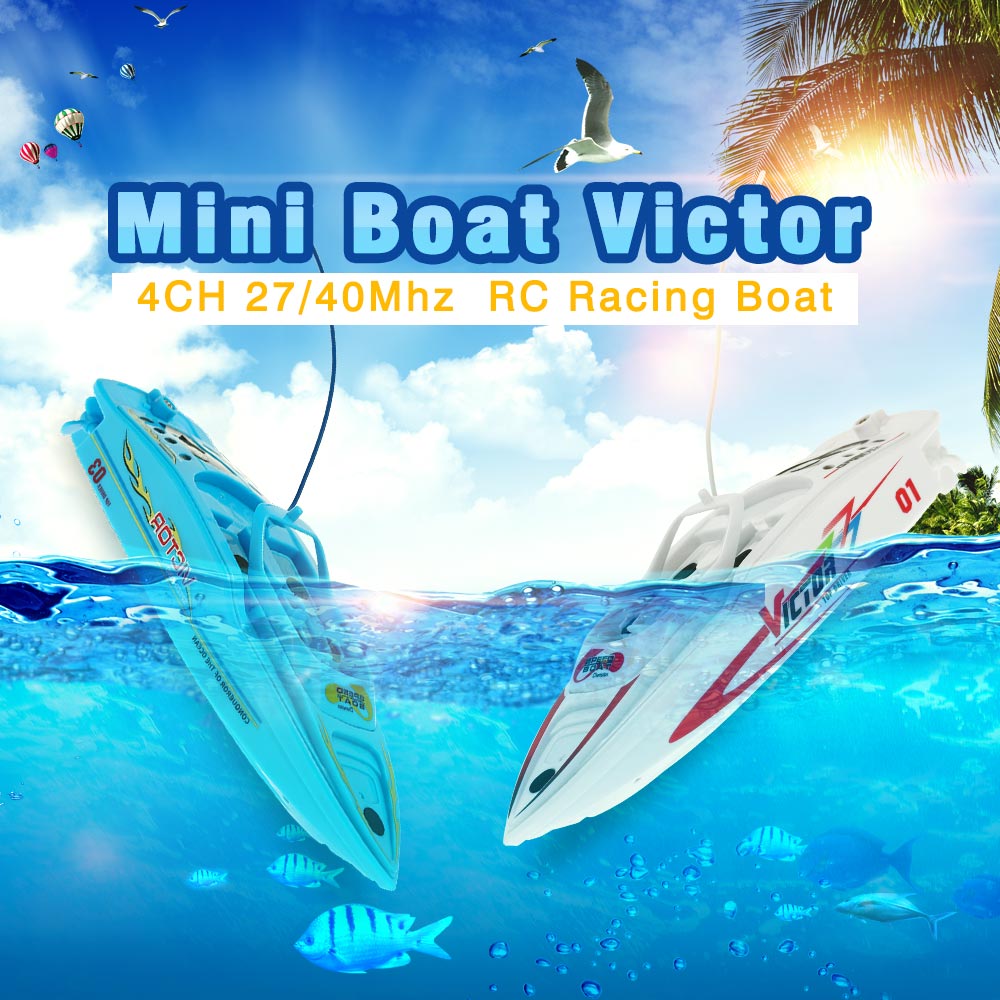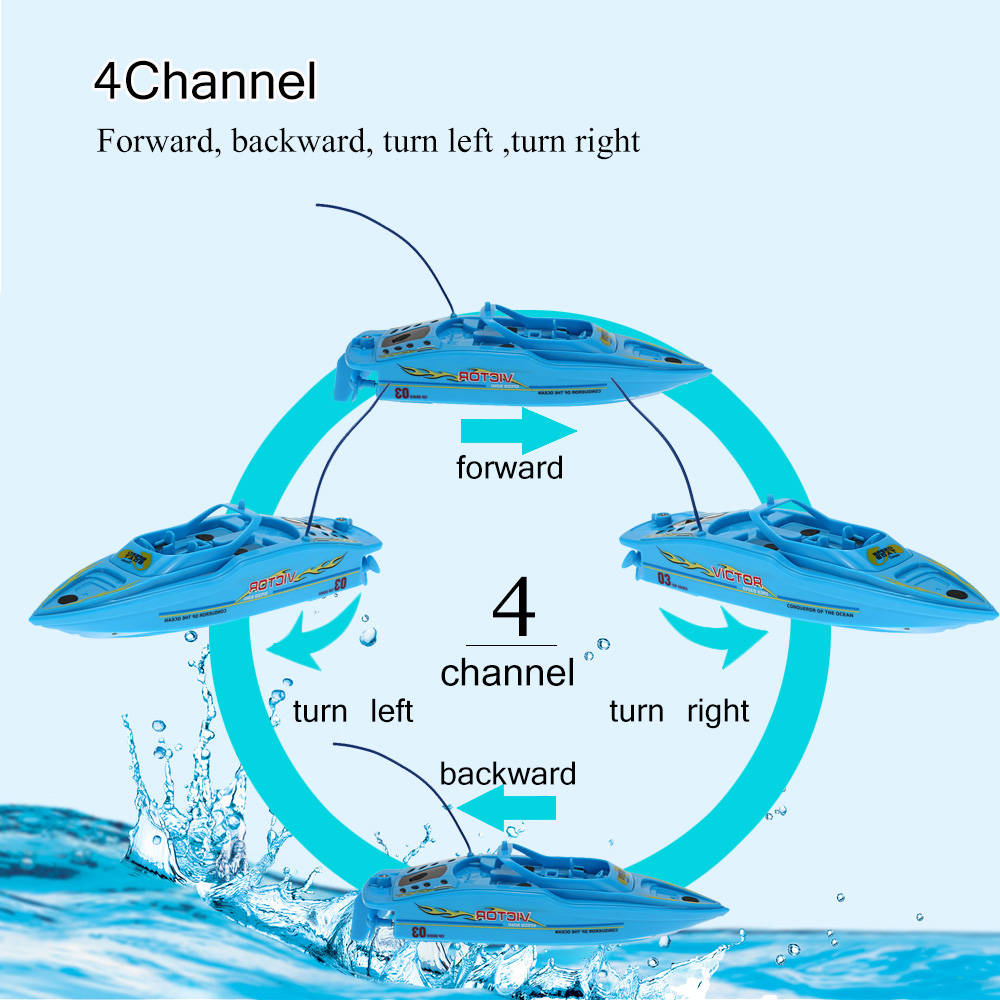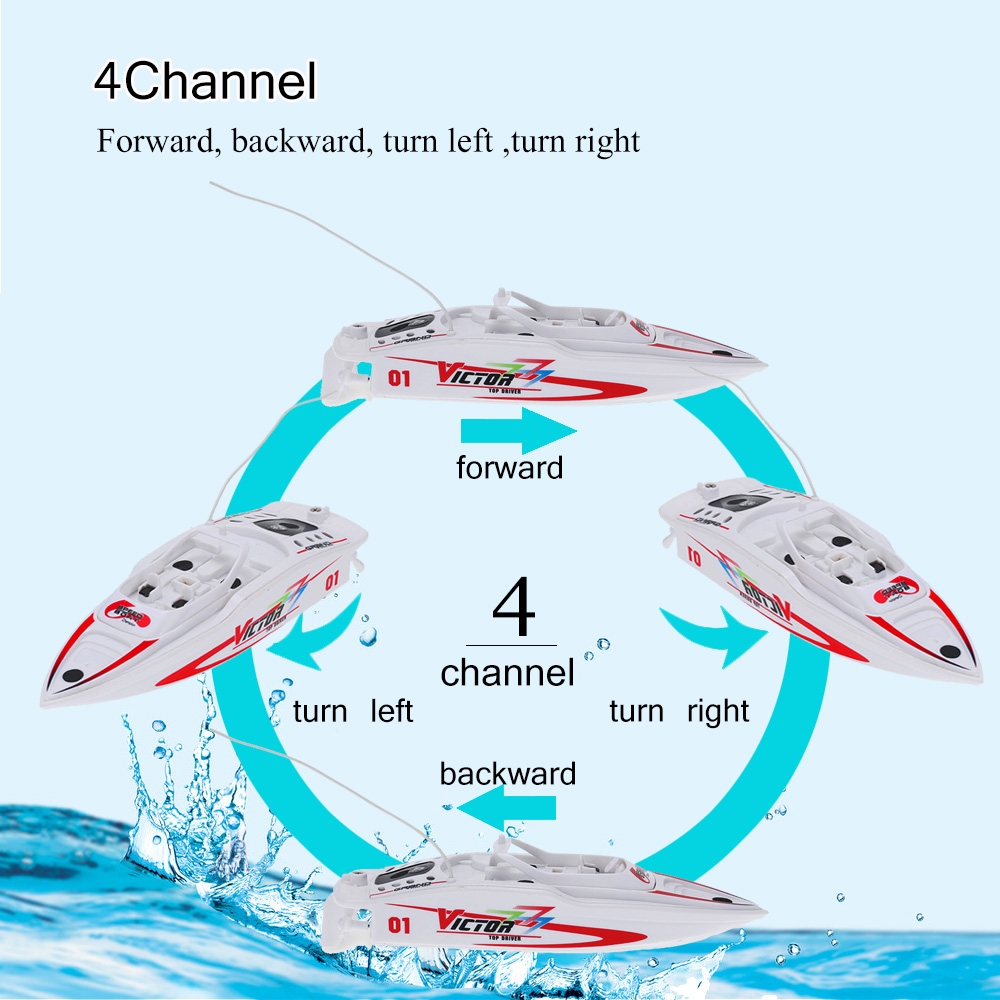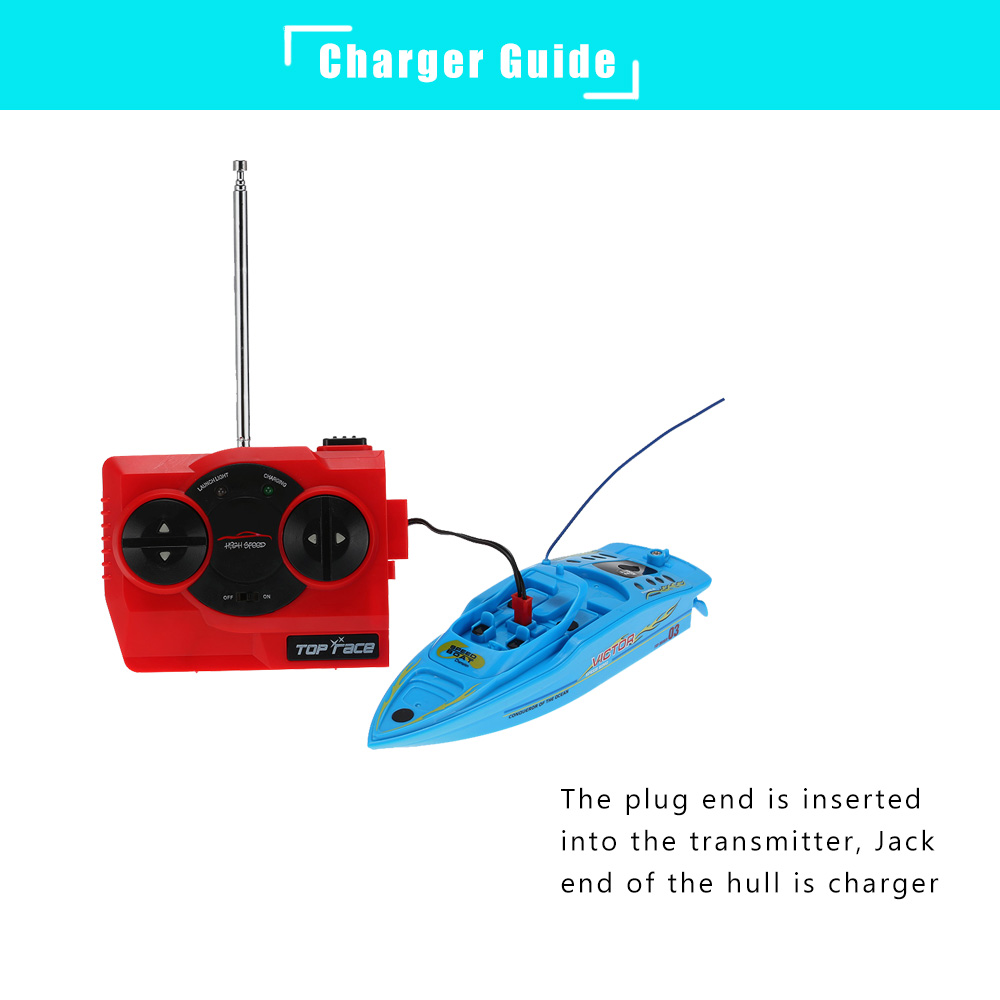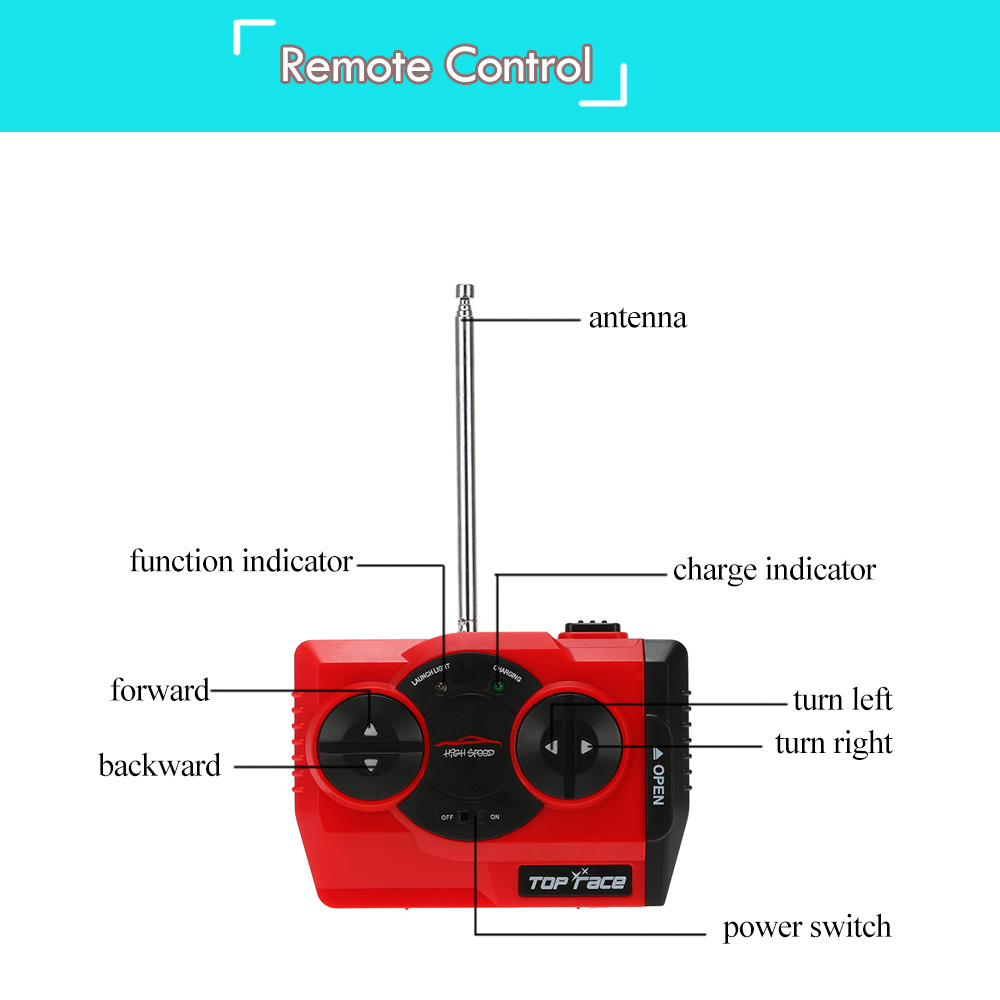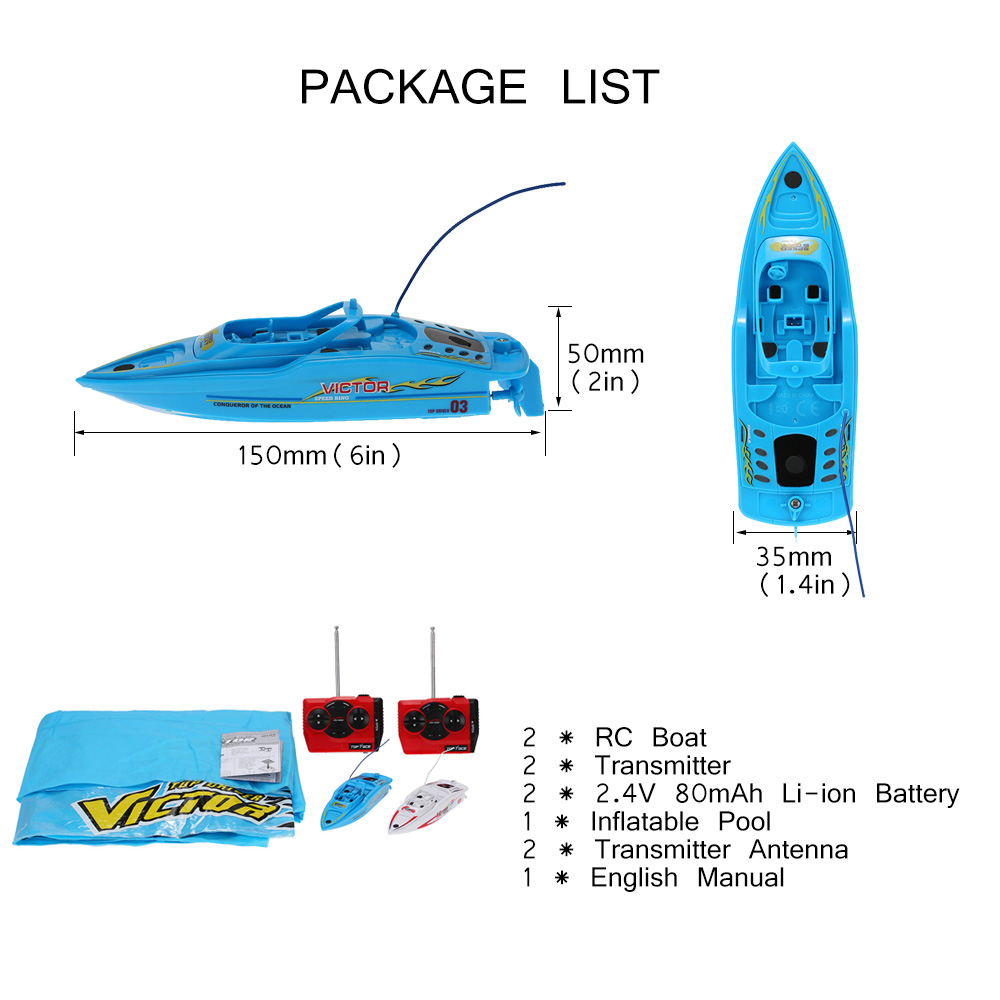 Features:
Light boat body and internal structure.
Omni-directional drive system, avoiding overturn.
Professional large torsion propeller.
Built-in sensing device will stop the propellers rotating for protection.
Two boats and the pool are included in the package.
Adopt the most advanced waterproof function.
The transmitter can charge the boat directly.
Specification:
Brand: Create Toys
Model: CT3392B
Material: Plastic
Color: White and Blue
Remote control: Radio control
Remote control frequency: CT3392B-1 40MHz / CT3392B-2 27MHz
Suitable ages: Above 8 Years old
Controlling distance: about 12-14m
Battery for boat: 2.4V 80mAh Li-ion Battery
(built-in)
Charging time: about 2h
Working time: about 6-8 minutes
Charging voltage: 2.4V
Transmitter battery: 4 * 1.5V AA batteries
(not included)
Item dimensions: 150 * 50 * 35mm / pcs
Item weight: 49g / pcs
Notice:
This RC model is not suitable for children under 8 years old.
Carefully read the instruction before any use, if you are a beginner, it's advisable to be assisted by an experienced adult.

Caution:
Don't over-charge, or over-discharge batteries.
Don't put it in the high temperature condition.
Don't throw it into fire.
Don't throw it into water.
Package information:
Package size: 35 * 26 * 16cm / 13.8 * 10.3 * 6.3in
Package weight: 1376g / 3.1lb
Gift box package
Package list:
2 * CT3392B RC Boat (CT3392B-1&CT3392B-2)
2 * Transmitter
(left hand throttle)
2 * 2.4V 80mAh Li-ion Battery
(built-in)
1 * Inflatable Pool
2 * Transmitter Antenna
1 * English Manual
Shipping Methods:
When you order from TOMTOP.com, you will receive a confirmation email. Once your order is shipped, you will be emailed with the tracking information for your order's shipment. You can choose your preferred shipping method on the Order Information page during the checkout process. TOMTOP.com offers different shipping methods for you:
Shipping from Chinese Warehouse:
Shipping Type
Country
Shipping Time
Airmail and register airmail
United States,Canada
10-20 business days
Australia, New Zealand, Singapore
15-25 business days

United Kingdom, France, Spain, Germany, Netherlands, Japan, Belgium,

Denmark, Finland, Ireland, Norway, Portugal, Sweden, Switzerland

20-30 business days
Brazil and Mexico
20-35 business days
Russia
20-35 business days
Other countries
10-25 business days
Singapore & China (EMS)
All countries except those listed below
6-10 business days
Brazil and Russia
10-25 business days
Expedited Shipping(DHL)
Worldwide
3-7 business days
Shipping from Local Warehouses:
Warehouses
Shipping Type
Shipping Time
Country
UK Warehouse
Royal mail without tracking number
5-12 business days
Can be delivered to UK & other EU countries.
UPS
3-7 business days
USA Warehouse
Air mail with tracking number
5-12 business days
Can only be delivered to America.
UPS
3-7 business days
DE Warehouse
DHL
3-8 business days

Can be delivered to worldwide. (But its shipping cost varies from

different countries. Recommend to choose if you are in Europe.)
The transit time depends on where you're located and where your package comes from. If you want to know more information, please contact our customer service. We will settle your problem as soon as possible. Enjoy shopping!
Payment Methods:
TOMTOP.com accepts PayPal, Credit Card, Western Union, Wire Transfer, QIWI and Yandex as secure payment methods:
Global:
1. PayPal
1) Login To Your Account or use Credit Card Express.
2) Enter your Card Details, the order will be shipped to your PayPal address. And click "Submit".
3) Your Payment will be processed and a receipt will be sent to your email inbox.
2. Credit Card
1) Choose your shipping address OR create a new one.
2) Enter your Card Details and click "Submit".
3) Your Payment will be processed and a receipt will be sent to your email inbox.
3. Wire Transfer
For orders more than $500, please contact us and provide us with the following information: your order number, the total amount paid, and the exact date of the wire transfer.
4. Yandex
Яндекс.Деньги
Вы можете заплатить из кошелька в Яндекс.Деньгах или с привязаннойк нему карты. Комиссии нет.
5. QIWI
1) Выберите страну, где был открыт ваш счет
2) Введите номер вашего QIWI кошелька
3) Введите номер, ваш пароль и нажмите на кнопку оплаты
4) Нажмите на "оплатить с QIWI", Вы будете перенаправлены на страницу с деталями платежа через QIWI
5) Введите номер ваш пароль и нажмите на кнопку оплаты
6) Ваш платеж будет обработан
7) Вы будете направлены на страницу с деталями заказа для подтверждения

Вы будете перенаправлены на сайт QIWI, чтобы произвести оплату с вашего QIWI Wallet.
1.Does TOMTOP check the products before shipping them to me?
Yes, for sure.
We have a professional Quality Control team. They will check carefully for each item we received from suppliers and manufacturers to avoid sending defective goods to our customers.
If a item is found defective in our QC test, it will be returned to the supplier / factory. So please don't worry about receiving a defective item because we are committed to being a trustworthy and reliable seller on international on-line shopping market.

2.Are Products Guaranteed / Is There A Warranty?
Yes, everything you buy from TOMTOP has a guarantee of quality and will exactly match the description on the website.
Factories that supply TOMTOP are strictly evaluated by us, and we provide you an even better reassurance of consistent high quality thanks to our in-house QC team. We double-check the contents of all orders carefully before dispatch to our customers. You can be confident about ordering from TOMTOP just as much as any western retailer.

3. How long dose it take to have my orders shipped after the payment is made?
1.Processing time 1-2 business days normally: During this period, we do strict quality-control tests and get the items carefully packed.
2.Sometimes the item in your order is really a hot seller and it may be just sold out at that time. It will take us 1-2 more days to get it available in stock again. In this case, The processing time will be 3 business days.
If you don't receive any shipping confirming over three days after the payment is made, please kindly contact our customer service . They will check for you.

4. What should I do if my items arrived damaged?
Rarely, rough handling by the courier can lead to physical damage to your goods, e.g. broken screen.
If this has happened, please follow these steps:
If possible, raise a complaint directly with the delivery representative of the courier company before you sign for the goods. They will advise you on the complaint procedure.
If you already signed for the packet, take photos showing the damage and contact the local office of the courier/delivery company to complain. They will have a complaining procedure which will enable you to get compensation.
Next, contact TOMTOP immediately with your order number and a full description / pictures of the broken item issue. We will contact the courier company from our end.
Once the courier company confirms that the case is valid, they will compensate TOMTOP, and we will pass on this compensation to you. The compensation varies from case to case and is different for each delivery company. In some cases you will need to pay to post the broken item back to TOMTOP in order for us to send out a new piece.

5. What should I do if my products go broken after a period of use?
If you encounter quality issues within the warranty period, you can ask for us. Every product has a specific warranty period(If it is not stated in the product listing, contact us).

In this case, please kindly provide us with proof as below:
The photos of original TOMTOP package with front and back sides
The photos or video of the defective item(s)
The photos, video or screenshot showing the malfunction of the defective item(s)

We will usually offer you a refund or send a replacement as soon as the problem is confirmed.
Sometimes you may need to ship the defective item back to us for free repair service or a new replacement. Customer should cover the return shipping fee, and TOMTOP is responsible for the shipping costs of arranging reshipment by air mail.
Customer Reviews
5 stars

41%

4 stars

59%

3 stars

2 stars

1 stars
Share your thoughts with other customers and get Tomtop Points, the first 5 reviews get DOUBLE Tomtop Points!
Write a Customer Review
Overall:

Usefulness:

Shipping:

Price:

Quality:

By s***9

April 4, 2016 00:34:38

Overall:

Usefulness:

Shipping:

Price:

Quality:

By B***y

April 3, 2016 10:51:40

Overall:

Usefulness:

Shipping:

Price:

Quality:

By j***6

April 2, 2016 18:39:12

My 8 year old saved up his money to purchase a remote control boat. He searched Amazon for weeks reviewing the details of each and every boat. He literally watched every single video he could find. He has been absolutely thrilled with the purchase. It definitely is a blast to take to the lake, but he also does science and mechanical expirements at home as well! The detailed instructions that accompanied the boat show each and every part by their name. It has been a great lesson on mechanics for this scientific mind! As parents, I couldn't be more pleased that he spent his hard earned money on such a great boat!!!

Overall:

Usefulness:

Shipping:

Price:

Quality:

By j***e

April 1, 2016 21:08:46

My son loves this. No problems with the frequency. The distance it can go is pretty awesome. We mistakenly drove it through some seaweed, but we were able to break it free quite easily. I do wish the drive time was more than 20 minutes. I may buy my son a second battery, but it gives ample warning to get it back before it dies.

Overall:

Usefulness:

Shipping:

Price:

Quality:

By h***a

March 30, 2016 19:48:21

Overall:

Usefulness:

Shipping:

Price:

Quality:

By a***v

March 30, 2016 18:56:47

Ok. This is the most badass thing I've ever purchased. Do not hesitate. Just click 'add to cart' right now. Everything about this boat screams "quality engineering". The way the battery fits in. The way the propeller and rudder are mounted. The way the top comes off and then re-seals water-tight. The fact that the boat won't work until you put in the water. The way the beeps change frequency as you go up and down the trim scale. The USB charger. And did I mention, it's fast?

Overall:

Usefulness:

Shipping:

Price:

Quality:

By k***n

March 30, 2016 01:33:46

This little boat is FANTASTIC! It is fast, very on point with the hand held controller. Turn it a tad, it turns, it blows through the water quickly and precise. I should have bought 2 more - One for my Mom and her friend, my 7 year old works this easily (he isn't allowed to take it out of the water just in case the propeller would continue to spin, as of now, it hasn't - but safety first!) Great price, product is much better than expected!

Overall:

Usefulness:

Shipping:

Price:

Quality:

By j***4

March 18, 2016 18:00:04

I bought both of these boats. The black and orange one. I have used them both three times at the same time with my little brothers and they had a blast so far I have not experienced any negative issues as the other posts have stated. For 50 bucks each Id say so far its worth it.

Overall:

Usefulness:

Shipping:

Price:

Quality:

By r***4

March 18, 2016 15:05:09

So far so good, battery, controller works as stated,,, let's you know when out of power,,, have only used it 6 times so far, but great so far,, has steps in case you flip the boat,, worked,,, Con,, not real in love with charging the battery through computer, but probably cuts down on cost by not buying another charger, so Ok with it.. would recommend.

Overall:

Usefulness:

Shipping:

Price:

Quality:

By t***s

March 18, 2016 00:36:27

Awesome and fast! Kind of slow to take off, but once it planes out it scoots and turns on a dime! Fun toy. Want to order another, but one reviewer says they are all the same channel??? I have some videos of my 6 and 7 year old playing with them but don't know how to post them. Mayne I'll add a you tube link?

Overall:

Usefulness:

Shipping:

Price:

Quality:

By t***t

March 15, 2016 12:19:06

Overall:

Usefulness:

Shipping:

Price:

Quality:

By h***2

March 15, 2016 10:38:56

Very impressed with this boat. Real fast and fun. Not very agile at slow speeds. Ended up adjusting the rudder linkage to get more rudder travel. Works much better at low speed now and will turn on a dime, but it is a little twitchy. I bought a spare battery on Amazon so I can get double the runtime. Excellent boat. My son loves it.

Overall:

Usefulness:

Shipping:

Price:

Quality:

By n***4

March 15, 2016 00:04:00

Fast, fast boat. I tried using in my 32 x 20 pool and it's just too fast. It will take on a little water at times, but if you really floor the pedal, most of the water will drain. The battery does last about 10 minutes or so and takes about 2 hours to charge. You could buy an extra battery, but the instructions say not to run more than 15 minutes to avoid overheating. It does put on a great show for the kids and the remote is fairly easy to use. The instructions were written by some guy in china with limited English skills. But after the first run, you won't need the instructions and you'll get the hang of it ! I would think that anyone over the age of 7 would be able to use it.

Overall:

Usefulness:

Shipping:

Price:

Quality:

By m***i

March 12, 2016 22:27:42

Live on a lake and love taking this guy out on the water. It goes very fast for its size, cuts really nice in the water, it's super easy to get it to flip back over if it does roll over, and it gets great distance from you. It's really cool how it won't work when it's out of water, but once you set it in the water and pull back on the rc trigger, it comes alive no problemo. And more importantly, it signals an alarm when the battery is about to die so that you don't get stuck out in the lake. Love it!

Overall:

Usefulness:

Shipping:

Price:

Quality:

By m***d

March 12, 2016 10:13:52

Overall:

Usefulness:

Shipping:

Price:

Quality:

By k***0

March 12, 2016 10:09:59

Finally after many helicopters and a couple of quadcopters that I seemed to never to be able to master. I am a beginner and I don't know whether the products were defective or it was me. I finally found a good product with awesome features (low battery and out of range warnings are awesome) that works for me! Got my boat yesterday, had to try it today. Weather is pretty, but cold. First run, went straight out in lake where I could compensate for any wrong turns. Had a great run, no turnovers, didn't run into anything, Perfect!

Overall:

Usefulness:

Shipping:

Price:

Quality:

By u***9

March 11, 2016 23:13:53

Very, very fast. In fact it's so fast it put a hole in the pool liner when the kids ran it into the side of the pool. I would recommend using this on a large lake, not in a pool, it's too fast for a pool, even a very large pool it would get to the other side in seconds. Great R/C boat for the price

Overall:

Usefulness:

Shipping:

Price:

Quality:

By b***0

March 11, 2016 10:40:41

Overall:

Usefulness:

Shipping:

Price:

Quality:

By m***0

March 11, 2016 01:39:12

I bought this toy before I went to the lake house for a week this summer. I would charge the batteries in the evening before and take it out the next day on our boat. It was popular all week with the family. I knew going in that you were going to get more than 10-15 minutes out of a LIPO battery so I bought an extra one with the boat. I was pleasantly surprised to find that I got nearly 20 minutes per charge, though I didn't run it full speed the entire time . Being a rookie RC driver, I thought this boat was plenty fast.

Overall:

Usefulness:

Shipping:

Price:

Quality:

By g***9

February 28, 2016 09:20:50

Have taken it out on the local pond twice now. Super fast, easy to control, and good range. Got tangled in a fishing line once and took a few minutes to get it free, but otherwise no stress, easy fun! We also have a remote-controlled sailboat, but it is almost impossible to use if there is any wind at all, and this one works fine regardless of wind or weather conditions.
See All 22 Customer Reviews